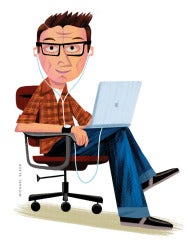 [Ask the iTunes Guy is a regular column in which we answer your questions on everything iTunes related. If there's something you'd like to know, send an email to the iTunes Guy for consideration.]
We get a lot of questions about manipulating files, and this week I've chosen a number of them to address. I look at how to join music tracks, how to add album art to tracks, and how to delete tracks from an iPhone. I also look at a persistent download problem that a lot of people have encountered in recent weeks with purchased or matched music.
Q: Is there any way to combine two songs in iTunes? I want to connect two together so that one flows into the other, with no gap, even if I shuffle the playlist. Can this be done easily?
It's quite easy to do if you rip the songs from a CD. Before ripping, select the two (or more) tracks you want to join on the CD, then choose Advanced -> Join CD Tracks. iTunes will then show that the tracks are set to be joined. Rip the CD, and those joined tracks will make a single file.
If you already have the tracks in your iTunes library (or you've purchased them by download so don't have a CD to re-rip) you might want to try Rogue Amoeba's $32 Fission ( ). This software lets you edit audio files without converting them, so there's no loss in quality.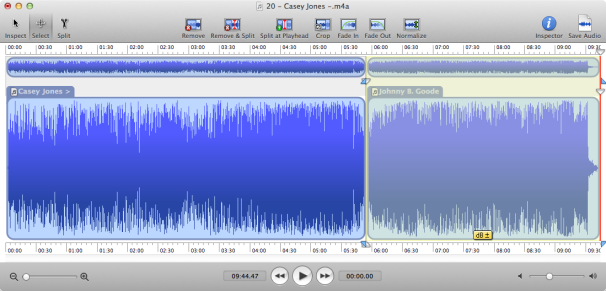 To combine two tracks in Fission, open the first one, then click at the right-most end of the window. Find the second file and drag it onto the Fission window, over the red line that marks the playhead position. Save the file and add it to your iTunes library.
Q: I have a number of songs that I ripped from CDs, that I matched so they could be available to other devices through iCloud. But when I play some of them, whether streamed or downloaded, only part of the song is there; part way through, iTunes skips to the next song. The original ripped version is complete.
The problem you're describing is actually one that has been impacting a number of people in recent weeks; I wrote about it on my blog at the end of July. It seems there are some issues with Apple's servers. Many people are having this problem with purchases and iTunes Match downloads, but it appears to be random.
The only solution for now looks to be to re-download any purchases you've made. Interestingly, however, iTunes Store customer support seems to prefer putting those tracks back in your download queue, suggesting the problem may occur between a main server and the one that provides downloads.
As far as matched tracks are concerned, I don't know what to suggest. If you still have the originals, you might want to try deleting the matched tracks and re-matching the originals to see if that fixes things.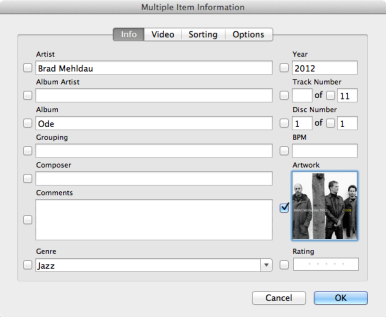 Q: I have a lot of songs that don't have album art, and I'd like to fill those empty spaces with some pictures of my own. I'm wondering if there is a way to put a picture on multiple songs instead of going into each one individually and waiting for it to load hundreds of times?
Sure thing. Select a bunch of tracks—say, an entire album—then press Command-I. There's an Artwork image well near the bottom-right of the window. Just drag an image file to that well, or, if you've copied a graphic on a webpage, click the well and paste it by pressing Command-V. Click OK, and iTunes will save the artwork to each file.
Q: How does iTunes Match handle Apple Lossless (ALAC) files? I assume that matched files are downloaded as the iTunes Plus 256-kbps AAC versions by other devices, but what about unmatched files? Does iTunes upload the original ALAC file, or convert it to AAC first?
If your iTunes library contains files in Apple Lossless format, and these files aren't matched, iTunes converts them to 256-kbps AAC files and uploads them. When you download or stream the files using iCloud, you'll get those AAC files. However, it does not convert or delete the original Apple Lossless files in your iTunes library.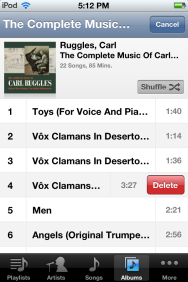 Q: Can I delete songs directly from my iPhone to free up storage space for apps?
Yep. It's not that obvious, although it does work the way you delete other things in iOS apps.
Display an album or a list of songs. If you want to delete a track, swipe to the right on its name, then tap Delete. If you display a list of albums, you can delete an entire album the same way. And if you want to delete all the music by an artist, you can do that as well.
But note that if you sync your iPhone with iTunes, the next time you perform a sync those tracks will copy back to your iPhone. To remove them permanently, you'll have to change your sync settings.
[Senior contributor Kirk McElhearn writes about Macs, music, and more on his blog Kirkville. Twitter: @mcelhearn Kirk is the author of Take Control of iTunes 10: The FAQ.]