Longtime Mac Gems readers know that while I'm a user of OS X's Mail email client, I'm a fan of the many add-ons and utilities that extend and enhance Mail. In fact, several of my most-used Gems are Mail add-ons.
And while all Gems are by definition inexpensive, longtime readers also know that I sometimes write about a great deal or bundle that lets you get Gems at an even better price than usual.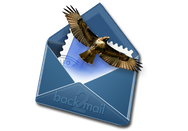 Today's the rare occasion when my love of Mail add-ons and my hunt for bargains overlap. Indev (the developer of Mail Act-On, MailTags, and Mail Perspectives—see below) and Creative in Austria (the developer of Letter Opener) have organized a promotion called Back2Mail. Ten developers are offering 14 add-ons, utilities, and resources for OS X Mail—most of them previous Mac Gems—at a discount of 33 to 50 percent.
To get the discount, you just go to the Back2Mail page and click the Buy button for any product to purchase it at its developer's website. When you check out, just enter the code Back2Mail to get your discount. You can buy as many or as few of the products as you want, unlike bundles that make you buy a bunch of things even if you want only a few.
Here's the list of products in the promotion:
Attachment Tamer (formerly Mail Attachments Iconizer; ; 40% off): This add-on gives you more control over how Mail displays and sends attachments.
DockStar ( ; 50% off): DockStar enhances Mail's Dock icon—and, optionally, the menu bar—to provide finer-grain new-message notifications.
EagleFiler (33% off): This "digital filing cabinet" can be used, among many other things, to archive your email in a searchable database, so you can streamline how much email is actually stored in Mail.
ForgetMeNot (50% off): This nifty add-on scans your outgoing messages for words that might indicate you meant to include an attachment. If it finds one of those words—you can customize the list—but no attachment is included, ForgetMeNot alerts you so you can fix the problem before the message is sent.
Letter Opener ( ; 33% off): Letter Opener converts winmail.dat attachments on the fly, so you can actually see and use the attachments the sender intended you to have.
Mail Act-On ( ; 50% off): This is an incredibly useful Mail plug-in that lets you invoke rules using the keyboard—if you can perform an action using Mail's rules, Mail Act-On lets you do it with a keyboard shortcut. It also adds Outbox rules to Mail.
Mail Perspectives (formerly MiniMail; 50% off): This utility offers several new kinds of Mail windows for keeping an eye on new messages and important mailboxes. It also lets you save preferred sets of windows.
Mail Stationary and Mail Stationary Smart (40% off each): These collections each include over 100 custom-designed templates for Mail messages.
MailHub ( ): This plug-in adds a new toolbar to the top of Mail's message list that provides a number of useful new features, including a mailbox-Search field that makes quick work of switching between, and filing messages to, mailboxes and folders. You can also set reminders for email-related tasks.
MailTags ( ; 50% off): MailTags lets you add searchable tags (similar to keywords or categories) to e-mail messages. It also lets you add notes, set and view priority, and assign due dates to messages.
SignatureProfiler (33% off): This plug-in enhances Mail's signature feature by letting you create cross-account signatures with details that are automatically filled in based on the sending account. It can also automatically insert information on the currently playing iTunes track, or insert a random quotation from a quotation file.
SpamSieve ( ; 33% off): If you're looking for the best Mac-based anti-spam solution, look no further than C-Command's SpamSieve 2.7. The program offers highly accurate filtering, is relatively simple to install, and is easy to use, particularly with Apple Mail.
Take Control of Apple Mail in Mountain Lion (50% off): This one isn't software, but rather an ebook—and an excellent one, at that. Written by Macworld senior contributor Joe Kissell, it is, to my knowledge, the most comprehensive guide to Mail that you'll find.
According to the Back2Mail team, the sale ends on September 11, 2012.