Pocket, the iOS newsreading app formerly known as Read It Later, was updated Thursday with new sharing features—including the ability to share stories to App.net or open them in the iOS version of Google's Chrome browser. In addition, the update lets Pocket save stories via the Kippt link archival service.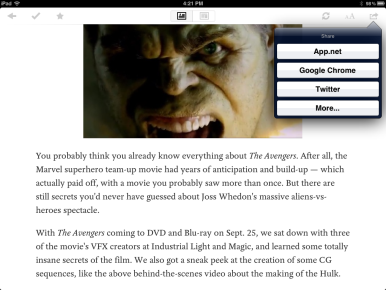 Interesting as Pocket's new features may be, their implications are just as intriguing. Paid Twitter alternative, App.net, is starting to get some buzz from those unhappy with Twitter's recent policy changes (those that limit the capabilities of third-party Twitter clients, in particular). The inclusion of support for App.net may be a sign of the service's growing popularity.
The integration with the iOS version of Google Chrome is also noteworthy. As the bundled web browser, Apple's Safari naturally gets the lion's share of attention from Apple's other bundled app as well as third-party apps. And while Safari remains the default browser for iOS and earns advantages because of it—links opened in Mail, for example, will only open in the native browser—Pocket's addition of a button to share pages to Chrome brings added attention to this Safari alternative.
Pocket is free, and compatible with devices running iOS 5.0 or later.