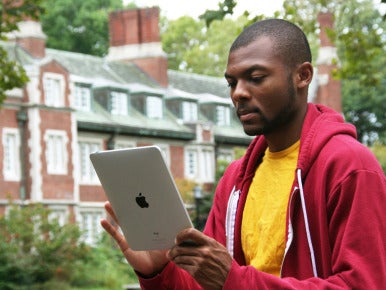 When Dr. Martin Ringle introduced the then-new iPad to Oregon's Reed College in the fall of 2010, he was more than a little cautious. After all, he had seen educational-technology trends come and go—he even had an old Apple Newton gathering dust in a drawer somewhere.
Ringle, the chief technology officer at Reed, planned to try iPads purely as a test and not to get caught up in the hype. "We want students and faculty to have the devices in a live setting," Ringle said, "and see what they discover."
Two years later, after multiple pilot programs, Ringle has this to report: He is an iPad believer.
"I think it's clear that the iPad is here to stay," he said recently. "Students and faculty—and for that matter, administrative staff—are continually finding new ways that the iPad meets their needs better today than it did yesterday."
Ringle is far from alone: As schools start their 2012-2013 school year, the iPad will be an important tool in many classrooms. San Diego's public school district, for example, has purchased 26,000 Apple tablets for use in classrooms. Schools in Mansfield, Texas, have bought thousands more. Studies have shown that students and teachers are enthusiastic about the device, and that it may even make a difference in educational outcomes. The result? In the first two quarters of this year, Apple says, it has sold twice as many iPads as Macs to K-12 customers.
Talk to a dozen different educators, and you'll get a dozen different reasons why the iPad seems to work well in the classroom. Here's what they're saying.
Engaging and simple to use
At ACDS, a New York school for young children with autism and Down syndrome, principal Cecilia Barry says the iPad has produced unmatched results in helping children with cognitive disabilities learn to communicate and express themselves. One 5-year-old improved so much, she says, that the child's family bought an iPad for every speech pathologist and classroom at the school.
The secret? The iPad doesn't require the students to use language. Instead, communication is tactile: They can touch and swipe images on the iPad to make themselves understood. The tablet's camera allows students to capture images of specific objects they want to communicate about. Compared with older methods—the children once used flash cards to accomplish the same things—the iPad is easier, more adaptable, and often more enjoyable to use.
"One of the main issues we have with kids with autism is frustration about communication," says Michael Smith, the school's executive director. "This is a way to communicate that really breaks through that frustration. It may be surprising if you don't work with these kids all the time, but it even improves the behavior of kids that's related to their frustration at being unable to communicate."
Since iPads are so popular with the general public, students also find it easy to bring the tablets along when they transition to regular classrooms; their continued use of the iPad to communicate may mark them as different from their classmates, but the tablet's cool-factor helps ease the stigma.
"Children in elementary schools love iPads. Adults love iPads," Barry says. "It's socially acceptable, and it makes a big difference."
Learning at your own pace
"The kids don't realize they're learning," says Richard O'Malley, superintendent of schools in Edison, New Jersey, where students in a yearlong pilot program using HMH Fuse—a multimedia math iPad app from textbook maker Houghton Mifflin Harcourt—reportedly raised their test scores by more than 10 percent over their textbook-using peers.
Students who have iPad access beyond school hours tend to visit their lessons more often on their own time, other educators say. "Pre-iPad, learning was somewhat bounded by the start of the school day and the end of the school day," says Dr. Rick Miller, district superintendent of schools in Riverside, California. "I think today, when you put a device in the hands of the students, they're learning on the go all the time. Sometimes it's what they want to learn, and sometimes it's what we want them to learn, but they're learning all the time."
And that's a feature educational-app makers tend to highlight.
"It's made the learning environment that much more personalized and that much more convenient," says John Sipe, senior vice president and national sales manager for Houghton Mifflin Harcourt. "When students have a question on a topic, they can watch a video over and over. They can check what they know on their own, instead of waiting for a teacher."
Powerful and portable
At the University of Cincinnati's James L. Winkle College of Pharmacy, students go through mock lab tests in which they take drug orders, mix them, and consult with patients. Multiple instructors grade them on a checklist; processing that information once took weeks. On the iPad, those checklist results enter a university-created database that students can access immediately online.
"Now it's all instant," says William Fant, the school's interim dean. "It allows them to try to make a performance change before the next lab."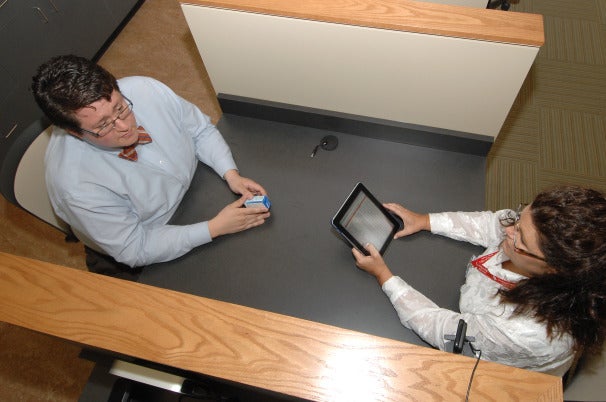 In some cases the iPads incorporate apps that function as "classroom clickers," allowing instructors to see in real time who is keeping up and who isn't, and to tailor their instructions accordingly.
"We're able to track where kids are in discrete competencies," says Gary Weisserman, chief academics officer at Scheck Hillel Community School in Florida, which performs such tracking using FileMaker software.
Classroom-polling systems have been available for years from companies such as eInstruction. But instead of requiring separate hardware, the iPad can do it all. Its portable form lends itself to such instruction, Weisserman adds. "In theory it could be done on other computer systems, but not very well."
Lightens backpacks, encourages creativity
The Wharton School has distributed iPads to 450 students in its Executive MBA program at campuses in Philadelphia and San Francisco; typically the school's students are executives who are working and who commute to class every other weekend. Initially Wharton offered iPads as an alternative to books and papers, which would have been a drag on that travel.
"That was the thrust," says Dan Alig, Wharton's senior director of administrative technology. "Now that we have the iPad in everybody's hands, we're trying to change the [learning] experience."
In fact, many educators say that merely replicating textbooks on the iPad is the wrong way to use the device. Although Apple's push into the educational sector has been textbook-oriented—the company has created a textbook-centric version of iBooks, and has established iBooks Author to encourage the creation of textbooks—early studies at Oklahoma State and Abilene Christian universities suggested that students were more interested in course-specific interactive apps that could help them learn. Ebooks on the tablet weren't as popular, or used as often.
In other words, the lighter backpack load is nice, but the learning experience matters more. And that's where iBooks and iBooks Author might make an unexpected difference in the learning process. At Scheck Hillel Community School, for example, educators were able to create the iTalmud course to instruct students in ancient Hebrew texts. But the students themselves have started to utilize those text-creation tools too.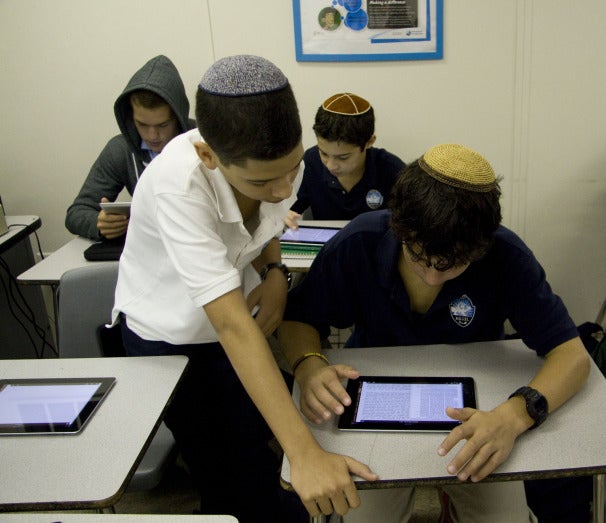 "Students want options in demonstrating mastery of material," says Seth Dimbert, Hillel's director of learning technologies. "Students don't want to write an essay anymore; they might produce an iBook, complete with charts."
Preparing for a digital future
Dan Alig, Wharton's senior director of administrative technology, says the iPad appears to facilitate class communication even when students disperse during the week. And getting the tablet in their hands acquaints business executives with a tool that they'll increasingly encounter in their work lives.
"We're taking tools that are part of modern business, and enabling students through their learning to see how this will impact their organization," Alig says.
Saint Mary's University in Minnesota has similar programs for midcareer professionals, offering iPad-enabled online master's degrees using the Deltak Engage app. "Students are becoming thoroughly proficient, in the course of their degrees, with this device," says Marcel Dumestre, the school's vice president for schools of graduate and professional programs, noting that the nearby Mayo Clinic is distributing iPads to its workforce. "I think there's an advantage for students coming through programs to become proficient in these technologies."
What's next?
The iPad is transforming education—and the education industry. Vineet Madan, senior vice president of new ventures and strategic services at McGraw-Hill Higher Education, notes that his company hasn't created a print-only textbook in three years. But, he says, the iPad is still expected to be in the hands of only about 15 percent of students this fall. "It's still early," he says. "We're only two years into the iPad era."
One factor going forward will be cost. Public schools in Riverside, California, have put more than 18,000 mobile devices—of all kinds—into students' hands. Superintendent Rick Miller says he likes the iPad and the way its users take their learning beyond school walls and hours. As a matter of budgeting, however, he must be platform-agnostic; he has his eye on tablets made by Apple's competitors. An entry-level third-generation iPad costs $499, and Apple offers no educational discount.
"The issue is, can we get a functional device for a reasonable price? Right now, our price point is around $200," Miller says. "If it were a straight-out educational decision, I'd go with the iPad," or perhaps the smaller mini-iPad that rumors suggest Apple might unveil this fall. "But it's not only educational, it's cost. If it's a $100 difference between them, and I'm buying 1000 of them, that's [a difference of] $100,000."
Dr. Jennifer Polack-Wahl, a researcher at the University of Mary Washington, has done research suggesting that iOS devices can make a difference in educational results. But the process requires more effort than just buying iPads and putting them in the classrooms.
"I think they're going to improve [education] if they're used right," she says of iOS devices. "If they're used as a way to placate kids or leave the teacher alone while working with other students, no. If they take time to make a curriculum that uses this, yes. It depends on the teacher to integrate it into the curriculum."
Back in Portland, Oregon, though, Martin Ringle is confident such issues will be addressed. He remembers the old Apple Newton, yes, but he also recalls a time when campuses were devoid of desktop and laptop computers. That changed, and education was transformed. He sees the iPad on the same track. "If history is any guide," Ringle says, "within a few years iPads and similar tablets will be as widespread as computers are today."