On an episode of his Web series Comedians in Cars Getting Coffee, Jerry Seinfeld mocks his friend Joel Hodgson for putting his iPhone in a case. "Why don't you walk around with a helmet on, too?" Jerry needles. "Why don't you get yourself a big styrofoam helmet?" The implication seems to be that relying on a case to protect your iPhone is a sign of weakness; if you don't live in a bubble, your precious smartphone shouldn't either.
My reaction to Jerry's case-aversion: What is the deal with that? (And I'm not the only one questioning Jerry's perspective; the folks at iLounge take issue with his argument, too.)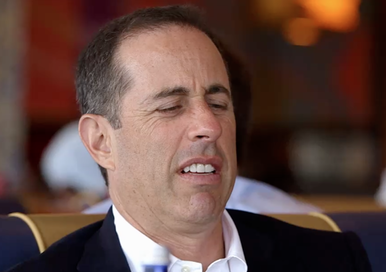 As part of my job at Macworld, I test a lot of iPhone cases. I specialize in rugged cases and those that provide extra battery power. I'll freely admit that, before I started doing that testing, I regularly toted my iPhone around as naked as both it and I were on the days we were born.
Now that my home office runneth over with iPhone cases, however, my 4S goes starkers a lot less often—not that there's anything wrong with that. My phone these days frequently sports either a Mophie Juice Pack Plus ( ) or the rubbery, easy-to-use, and impressively protective Cygnett WorkMate ( ). And while I love the slim sleekness of a case-free phone, I welcome the benefits that each provides.

Battery cases can be a huge boon to folks who use the heck out of their iPhones. For me—between testing apps for Macworld, getting push notifications, using location services, yada yada yada—my battery-level regularly runs down to 30 percent or less by early afternoon. A battery case might leave my iPhone feeling thick and heavy in my man hands, but it also means I can avoid the dreaded 20- or 10-percent messages of doom.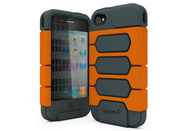 I use the WorkMate case on days I expect the iPhone will be more susceptible than usual to rough treatment. Even in my own home, I'm not really master of my domain. I have three young kids, including an iPhone-obsessed 18-month-old. He can swipe to unlock, swipe to the right screen, and tap on the Duck Duck Moose game of his choosing with ease. But sometimes, when he's all done with the iPhone, he also likes to toss it across the room with all of his 18-month-old might. My iPhone's real, and it's spectacular, and I don't want my kid's rough handling to smash its glass.
Remember the iPhone 4 antenna kerfuffle—the signal attenuation problem that cropped up when you held the phone wrong (i.e. along its naked metal edge)? At the press conference that followed—the one at which Apple offered free cases (which obviated the problem) to anyone who bought that phone— Daring Fireball's John Gruber asked Steve Jobs and other Apple executives present whether they personally equipped their phones with protective rubber bumpers.
Jobs, Tim Cook, and Bob Mansfield each pulled their iPhones from their pockets. All were naked (the iPhones, I mean, not the Apple executives).
I understand that preference. Truth be told, I wish I could look at my iPhone and declare, "No case for you!" When you keep your iPhone in a case for days or weeks at a time and then take it out, it's a revelation: The nude iPhone is absurdly slim, fits the hand brilliantly, feels delightfully light, and provides wonderfully unobstructed access to the screen and controls. Any case that provides any protection makes the iPhone a little less awesome to use.
Still, the case for cases is a strong one. I do wonder whether Apple could do more to mitigate the need many of us feel for beefier iPhone protection. While I laud the smooth feel of my glass-encased iPhone, I do hope the rumors of a sturdier case for the next iPhone prove true. And if the new phone really is taller than its predecessors, I hope that the extra battery room pays off in greater battery life, too.
It's not that think it's easy to make a stylish phone that's also drop-resistant and sports a heftier internal battery. But it wasn't easy to make a hugely successful show about nothing, either, Jerry. Until Apple can make an iPhone that doesn't seem vulnerable when running case-free, I'm glad cases exist—sort of like a Festivus for the rest of us.