The Walking Dead is an acclaimed comic book series and television show about survivors dealing with a zombie outbreak in the American South. It's about human relationships, the strain put on these bonds by the need to survive, and the fact that the walking dead might not be the most monstrous things stumbling around this planet. These aspects of the comic series are all handled with equal grace by seasoned adventure-game developers Telltale Games. With The Walking Dead for iPhone and iPad, Telltale once again demonstrates that its team knows how to create compelling characters, unique worlds, and an interactive experience that's as intense as it is memorable.
While the adventure genre is somewhat worn, The Walking Dead is more than a point-and-click game. You'll face quick-time action events where timing is paramount, you'll need to execute precise gestures, and you'll converse with other characters. Using the iPhone or iPad touchscreen, you can also drag your character around the environment, revealing other objects or people to interact with.
This last mechanic is perhaps the clunkiest part of The Walking Dead as your character handles it about as well as an animated corpse. Thankfully, Telltale buries this mechanic by not making it the central aspect of gameplay—you usually only walk around in hubs where you can interact with objects and people, rather than flee from zombies or perform actions requiring dexterity. The only other mechanical gripe I have occurs during occasional segments where your character's view is limited and you must press certain parts of the screen to peak over obstacles. It doesn't quite work as well as I'd like and resulted in a couple unfortunate "game overs" when a zombie spotted me.
The controls aren't butter, but that actually fits with the game's conceit. You are not an unstoppable hero with a special forces background. You're a University of Georgia employee named Lee. The game doesn't give you any kind of introduction to the what and how of the universe, and so you're like Lee—vulnerable, unsure of your surroundings, and just trying to stay alive in the chaos that surrounds you. It's effective and—dare I say—scary. The soundtrack and voice-acting are especially well done, with believable zombie noises, gunfire, and some smart dialogue.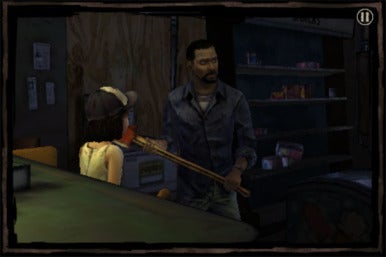 If you're hoping that The Walking Dead is another first-person shooter with a high body count, you'll be disappointed. Lee moves desperately and believably slow at times. This is a game where you're encouraged, even mandated, to frantically tap the screen at times. The game never feels safe or easy, and the controls reflect that sense of unease. Telltale doesn't give you a simple "press A to save John" button, and that's a smart choice.
The game, after all, is all about choice—and often under duress. You'll have to make split-second decisions, not only on responses to questions but who to save, who to shoot, and where to go. These decisions have immediate impact on the story. You'll find yourself giving a response that a character will remember later, eroding his trust in you. Or a decision to save a character will backfire when the rescue goes awry and the other character is eaten as well. (Did I mention the game is gory? It's gory. Don't give this to your five-year-old.)
The first episode I played is part of one of a planned five. (Episode two is now available as a $5 in-app purchase; you also have the option of prepaying for all episodes for $15.) It's inspired by the events of the comic series, but features different characters. Lee starts out in the back of a police car, a man with a dark past; the game becomes a story of his survival (and perhaps redemption) as he searches for his family and ends up saving a little girl named Clementine. The two of them meet other survivors and travel across the rapidly decaying Southern countryside.
This first episode will take you a couple hours to complete, but you'll likely want to play it over, make different decisions, and perhaps save different characters. Unlike some role-playing games with moral choices, there isn't a "best" or "perfect" ending to this game. Like the gray and muddied setting, your choices are ambiguous as well.
In many ways, the criticism of The Walking Dead series is similar to my criticism to the video game series: you'll introduced to characters, learn just enough about them to like them, and then watch them die haphazardly. Rinse and repeat. Still, the story of Lee and Clementine gives the game a moral center and a constant Rorschach test: How other characters react to the two of them ultimately determines whether or not you like that character. Yes, it gets draining to meet new characters again and again, only to be reminded that people become less human when faced with inhuman adversity. But just because it's good drama doesn't mean it's also not a lot of fun.
[Former associate editor Chris Holt remains a frequent contributor to Macworld.]