MyCalendar Mobile, by K-Factor Media, is a simple iOS app with one purpose—to help you remember your friends' birthdays. It's primarily focused on Facebook friends, but it can also gather birthdays from the Contacts stored on iPhone, iPod touch or iPad (though it's not optimized for that last device), as well as accept birthdays that you enter manually into the app.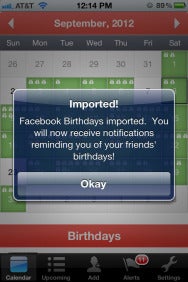 The first time you open the app, it prompts you to download the birthdays of all your Facebook friends. (You can also re-run the Add option any time you want.) Once that's finished, the squares on the calendar are filled with little birthday present icons—one for each birthday on that day. Tapping on a day displays a list of the birthdays happening on that day, with the person's photo (either from Facebook or your Contacts). There's also an Upcoming option which provides a list-view of birthdays happening within the next several days.
Before going further, here's a warning about the app's Facebook-connection process. When MyCalendar Mobile connects to your Facebook account, make sure to check the "Who can see posts…" option because the app's default setting is "Public," meaning that the entire world will be able to see the birthday wishes you post with it. That's a smart move for the developer, since each greeting contains a promotional link for the app. However, a wiser setting for Facebook users would be "Friends" or "Only Me." Then, in the following step, the app tries to coerce you to post a message to all your Facebook friends containing a link to the app. You can de-select certain (or all) names, or you can skip that step entirely, but you'll receive an ambiguously-worded warning trying to convince you to reconsider. Unfortunately, most users will probably just proceed without changing any of these settings, resulting in blasting an ad to all their friends' Facebook walls and sending links to the app, in the form of birthday greetings, that are visible to the entire Internet.
The app will send you push notifications alerting you of upcoming birthdays. (You can control when this happens, or disable it altogether, via the settings.) Responding to a notification, or tapping on a name in the calendar view, will let you send a birthday wish, including a personalized message, either via Facebook or SMS. (An Email option is not available.) However, as mentioned before, your Facebook birthday greeting will include an ad for the app, which you cannot disable.
The MyCalendar Mobile app works as advertised. Its relatively high rating in the App Store currently would seem to indicate that its users agree, and that they aren't aware of—or don't care about—the app's shameless self-promotion. I don't fall into either category, however. (The developer has published Terms of Service and Privacy pages on its website.)
[Brian Beam is a software designer and partner with web development firm BOLD Internet Solutions, living somewhere near Kansas City.]