PopChar X ( )—the longrunning and well-reviewed application from Ergonis Software for help typing unusual characters—scored a bump to version six on Monday. As always, the app lets users (especially designers of multilingual or technical documents) locate "glyphs" like trademark symbols or the pounds sterling sign, and choose from different versions of those symbols to best match the font of the surrounding text.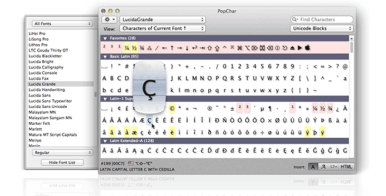 The updated version of the software makes it easier to do that matching—PopChar now features a "font preview" that lets users see a character shown in various fonts and sizes; it also includes a customizable "sample text" feature to see how the selected glyphs will look in context, rather than going through a cumbersome choose-then-undo process before hitting on the right font for the character. PopChar also now features new keyboard shortcuts for power users.
PopChar X 6.0 requires OS X 10.5.8 or later, and is compatible with Apple's new Mountain Lion operating system. The Austrian company's website lists the software's price only in euros, not dollars—a single license for the app is €30 (about $38 at today's rates), and a "family pack" that allows use on up to five computers costs €45; existing users of PopChar can upgrade for €15.