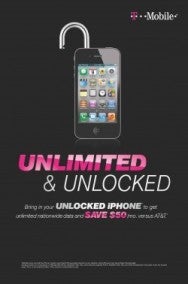 T-Mobile may be the only major U.S. carrier not currently selling the iPhone, but the company doesn't intend to be left out in the cold. On Monday, the telco said it will make a play for owners of unlocked iPhones, by offering in-store assistance to help get those phones onto the company's network. And for the first time, those users may be able to get data speeds comparable to those offered by Apple's official carrier partners.
Starting on Wednesday— the same day that Apple is widely expected to announce the next model of iPhone—T-Mobile will issue an iPhone 4S demo unit to each of its stores, where sales staff can use it to help customers set up their own phones on the T-Mobile network.
The company said it offers a number of advantages for iPhone users over its competitors, including an unlimited data plan starting at $60 a month for a single line; among the official iPhone carriers, only Sprint still offers an unlimited data plan to new users, but that costs $80 a month. T-Mobile also announced that it would be building iOS versions of its myAccount, T-Mobile TV, and Visual Voicemail apps.
Additionally, the company said it was "turning up" its HSPA+ service in the 1900MHz spectrum in the Seattle, Las Vegas, Washington DC, and New York City metro markets, with more areas scheduled to see the upgrade over time. That should improve T-Mobile's appeal to iPhone customers, because the new network will finally be able to offer data speeds comparable to those offered by AT&T and Verizon. While T-Mobile uses the same GSM standard as AT&T, it previously relied on a radio frequency not supported by the iPhone, limiting users of the handset to the much slower EDGE speeds.
It isn't clear whether customers who buy any new iPhone model that Apple might announce will be able to immediately take advantage of T-Mobile's aggressive new program. Apple released the iPhone 4S on October 28 last year, but didn't make unlocked versions of the phone available until the following month, giving its official partners a head start.
T-Mobile will face another disadvantage: While official carriers offer discounts on the current-generation iPhone, with models starting at $199, the same model of unlocked iPhone costs $649. One thing seems certain: Apple's Wednesday event will probably not include news that the company has joined forces with T-Mobile.