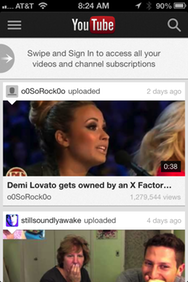 Google on Tuesday released a standalone YouTube app for iPhones to replace the built-in iOS YouTube app, which Apple has said will be removed in iOS 6. The move comes just ahead of Apple's media event on Wednesday, where the company is expected to launch the next iPhone, and potentially reveal when the YouTube-less iOS 6 will ship.
The launch of iOS 6 will mark a very public break-up between Apple and Google. Apple is ditching Google Maps in favor of its own mapping system, which will also bring free turn-by-turn directions, but lacks Google features like StreetView mode. The built-in YouTube app will be another casualty, as it will now be demoted from integrated software to just another app from the App Store.
The standalone YouTube app for iOS has its own advantages though—at least from Google's perspective. For one thing, the company is no longer dependent on Apple to release updates for the app. But perhaps most important is that videos in the app can show advertisements, bringing along with it tens of thousands more videos, YouTube said, which were not available through the built-in app before.
There's also a new channel guide with your subscribed channels, and new search feature with suggestions as you type. The usual related videos and commenting features are there too. Also, if you swipe the screen right, you will be able to access various categories of YouTube videos in a traditional timeline format, or sign in with your account and add your own channel preferences.
The one thing currently missing from Google's new YouTube app is iPad support. Andrey Doronichev, head of YouTube mobile, said in a blog post: "We're working on an optimized version of the YouTube app for iPad in the coming months." In the meantime, of course, iOS 6 users on the iPad can still visit YouTube with the built-in Safari browser.