Early Tuesday, Google unveiled a new, standalone YouTube app for the iPhone and iPod touch. The launch comes ahead of Apple's release of iOS 6, which will no longer ship with a native YouTube app.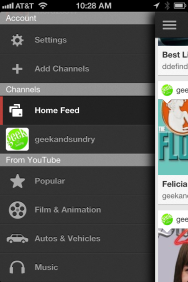 Like the Gmail and Facebook apps, YouTube uses a sidebar navigation approach: You swipe from left to right to push the app's main content over and expose the sidebar.
From there, you can log in to your account or access a variety of other options, including predefined categories that YouTube provides, such as Music, Sports, Gaming, Education, and more. You'll also see a list of your channel subscriptions; a button lets you add other channels, which (if you're logged in) YouTube will happily suggest to you based on your viewing history. Tapping on any category or channel will take you to a listing of videos associated with that topic.
By default, the new YouTube app presents a scrolling list of recommended videos. If you're logged in, they're recommended based on your subscriptions, likes, and history on YouTube. Logged in users can also choose (in the Settings section) to limit that home feed to only show new videos from your subscriptions.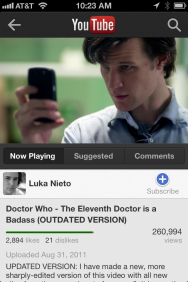 Tap on a video; its page will load, and the video therein starts playing automatically. In portrait mode, the video is embedded on a screen with other information about it, including its title, uploader (to whose feed you can subscribe, if you choose), and description. You'll also see options for viewing related videos and reading comments attached to the video (or adding your own).
Rotate the phone to landscape mode, and the video automatically goes full-screen on your device. If you tap on the video in landscape, you expose options to rate it (thumbs up or down), share it, or add it to your YouTube Watch Later, Favorites, or Playlist lists; you can also flag it for review if it contains objectionable content. You can also enable closed captioning on videos (where available), and there's support for AirPlay built in as well. Of course, scrubbing through the timeline is also supported if you want to jump around in the video, but since the app doesn't use Apple's built-in video player, you don't get the option of variable scrubbing speeds as you do in, say, the Videos app.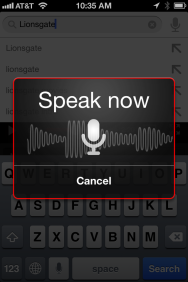 Unsurprisingly, one focus of the new YouTube app is search. You'll find a search button at the top of pretty much every page: Upon tapping it, you can type in search terms as usual, but Google's also integrated the voice search capability it first rolled out in its Google Search app. Tap the microphone to the right of the text field and speak your search terms; the app will interpret them and immediately take you to a list of results that match.
In search results, you can choose to view either individual videos or channels that match what you're looking for; for further refinement, tap the gear icon on the right side, and you can additionally choose to sort by relevance, upload date, view count, or rating, as well as filter results by when they were uploaded, their duration, and whether or not they have closed captioning. By default, Google has enforced moderate Safe Search filtering, but under Settings, you have the option to either not filter results at all, or bump it up to strict filtering.
By swiping right and tapping on your account name, you can view videos you've uploaded, playlists you've created, and your history, favorites, and Watch Later lists. There's also a Purchases tab to track any videos you've bought, but it doesn't seem like you'll be able to actually purchase any of YouTube's commercially available content from the iOS app itself. Likewise, while there's a tab to view your uploads, there's apparently no way to actually upload a video from the YouTube app itself.
That said, with the YouTube app now firmly under Google's control and no longer tied to Apple OS updates, it's possible that we'll see updates more frequently than we have in the past.
YouTube is a free download and requires an iPhone or iPod touch running iOS 4.3 or later.