This week's roundup of new iOS gear offers items to make music, keep your hands warm, look at tiny things, and keep track of your Apple TV. Here are the accessories that caught our eye this week.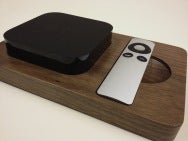 Bloc: Admittedly, we don't see accessories for the Apple TV come along too often, but the $39 Bloc for Apple TV is a nice exception to the rule. It's a wooden tray—it comes in cherry, maple, or walnut—with slots for both the Apple TV and its remote control. The device lets you create a permanent resting spot for your Apple TV, keeps the perhaps-too-small-and-light device from being pulled behind your entertainment center by heavy cables, and helps you stop losing the remote in the crevices of your couch.
DAS Concepts: Sure, you may still be healing from your last sunburn of the summer, but it's not too early to think about keeping your hands warm and touchscreen-ready this winter. The new Concepts line of gloves can help on both fronts. The gloves in the lineup range from $15 to $25, reflecting a variety of sizes and just how cold you expect the weather to get. The thicker gloves for colder climates aren't yet available, but the $15 varieties are ready to ship.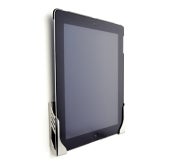 Dockem: This accessory maker has a pair of new products. The $20 Koala wall mount offers users a way to mount and safely display their tablet, perhaps for use as a television alternative for watching video. The $30 iProp is a mesh beanbag that acts as a tabletop base to display and use your iPad, propped up in either landscape or portrait orientation. The iProp includes a grippy bottom so your tablet won't slide across flat surfaces.
Focusrite: There are plenty of accessories that let you record your voice or musical instrument onto your iPad, but not many that do both at the same time. The iTrack Solo lets musicians get both voice and instrument into Garageband and other music-making apps, and it comes with warning lights to let you know when the levels are too high to get a good recording. Focusrite doesn't sell the device directly from its own site, but other outlets are selling the iTrack Solo for $160.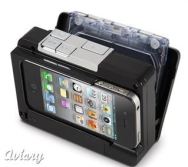 Hammacher Schlemmer: Does you still have old casette tapes sitting around, waiting to be converted to digital files? If so, they'll want to check out the $80 Casette to iPod Converter, which looks a bit like an old Walkman with an iPhone attached to the outside. But it will take your old, lovingly recorded high-school mixtapes and convert them to digital files stored directly on your iOS device. That's the good news. The bad? Over the past few days, the Hammacher Schlemmer website has changed the availability of the Converter a couple times—we're not sure if it's still available, discontinued, or just temporarily out of stock.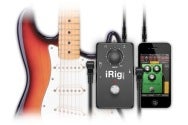 IK Multimedia: This company is always coming up with ways for guitar players to incorporate the iPhone and iPad into their music-making activities, and the $60 iRig Stomp is a fine addition to that tradition. It's an old-fashioned stompbox with a newfangled twist, letting you connect your guitar to music-recording apps on your iOS device, using your feet to control the input and manage production. Some apps can even be controlled by the device. It answers the age-old question: Are you ready to rock?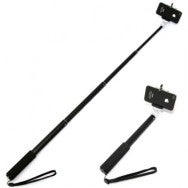 iStabilizer: The list of devices that turn your iPhone into a movie-making machine continues to expand. The $35 Monopod is an extendable arm that lets users capture images or video from high angles or other unusual points of view. iStabilizer says the device—which can extend your reach from 14 inches to 3 feet—is ideal for mobile journalists and others who want to capture video and photos on the go.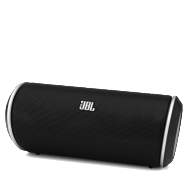 JBL: There's a pair of new speaker systems from this maker of audio accessories. The $99 JBL Flip is a portable, rechargable speaker that plays music wirelessly from your iOS device via a Bluetooth connection; it features a built-in microphone to enable hands-free phone calls and FaceTime chats. The $299 Soundbar SB 200 speaker is more suited to home theater use—it comes with an amplifier and a built-in subwoofer for bigger bass—but it, too, can play audio wirelessly from your iOS device or computer.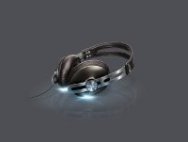 Sennheiser: This maker of audio accessories has been busy launching new products that go well with your iPhone and iPad. The new $350 Momentum headphones come with an inline remote and mic so that you can make calls and control your music while listening. And the company is collaborating with Adidas to offer a new line of sports-themed earbuds—ranging in price from $70 to $80—that let users listen to their music in comfort while working out. Both product lines are due in the United States later this fall.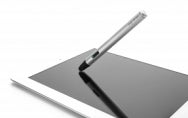 Ten One Design: Remember when styluses were little more than sticks with rubber tips, a substitute for your fingers when using the iPhone and iPad's touchscreen? Those days are long gone, as demonstrated by the new $80 Pogo Connect stylus. It's a Bluetooth-enabled accessory that transmits to your iPad just how much pressure you're using as you draw or write, enabling the creation of precise, delicately wrought images—assuming, of course, your favorite drawing app supports the Pogo Connect's pressure-level signals. The pen is powered by a single AAA battery. Pre-orders begin Oct. 1.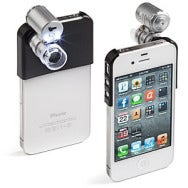 ThinkGeek: From the "very cool, very cool" department comes the $30 Mini Microscope for iPhone, which attaches to the camera lens of your iPhone 4 or 4S and offers up to 60x magnification. The device also includes three LED lights to illuminate the small object under consideration. ThinkGeek says it is also useful for verifying watermarks on paper, and it can be used for close-up work on detail-oriented jobs.
iPhone 4S family
Price When Reviewed:
$599
iPad (third generation) family