Your favorite virtual assistant now knows a lot more than it ever did before. Beyond merely knowing the answers to more kinds of questions, Siri in iOS 6 gains new functionality, simplifies some common tasks, and provides more useful results. And, for the first time, Siri in iOS 6 works on the iPad as well—provided that the iPad in question is a third-generation model or newer.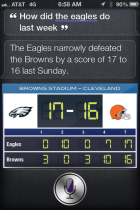 Sports The new Siri should be a hit with sports fans, thanks to its newfound skill at handling sports-related queries. You can ask Siri all kinds of natural-language questions about sports, such as "What was the score of the last Eagles game?" "Who do the Eagles play next?" "How tall is Kobe Bryant?" "Who's taller, Kobe Bryant or Michael Vick?" "Which quarterback has the most passing yards?" and "Is anyone on the Yankees injured?"
Results (powered by Yahoo) display clearly with nice visuals; unfortunately, you can't tap those results to get more details. Currently Siri can answer questions about football, basketball, baseball, soccer, and hockey.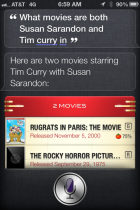 Movies In addition to its sports savvy, Siri has picked up some Hollywood knowledge. Powered by the movie-review site Rotten Tomatoes, Siri can now provide information about showtimes, along with trailers, reviews, and general filmography-style information. Among the kinds of queries Siri can now handle: "Where is Spider-Man playing?" "Is My Cousin Vinny a good movie?" "Who starred in UHF?" "Who won Best Actor in 2010?" and "What are Tom Hanks's best movies?"
You can tap on Siri's results to view trailers, tap the Tomato Rating to read review snippets, tap on showtimes for more information, and tap on theaters to see where they're located in the Maps app.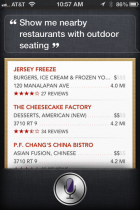 Restaurants Siri was already something of a foodie; it was capable of suggesting restaurants at its launch. But its restaurant-related answers have gone decidedly haute in iOS 6.
You can ask Siri to help you find restaurants by location, cuisine, price, outdoor seating, or a combination thereof, as in "Show me cheap Italian restaurants with outdoor seating near here."
You can then tap on a query result to see more details about the restaurant in question, including its price range, description, hours, phone number, Yelp review average, website, and address. And everything is tappable: For starters, tap on the restaurant's star rating to see review snippets. If you tap on a review snippet, the Yelp app opens to that review. (If you don't yet have the free Yelp app installed, Siri will prompt you to go grab it from the App Store.) And of course, tapping on the phone number places a call; tapping on the website launches it in Safari.
Siri in iOS 6 also knows about restaurants that support the OpenTable reservation system. You can say things like "Find me a table for six people for dinner tonight," and Siri will respond with a list of nearby, eligible restaurants. You can make the reservation from within Siri's interface. If you know that a specific restaurant supports OpenTable, you can request it by name, too: "Book me a table for tonight at 6 p.m. at Phil's Grill."
Other stuff In iOS 6, Siri is more forgiving of how you speak than it used to be. In iOS 5, Siri often depended on cue words to know precisely what you wanted it to do. If you dictated "iMessage Dan Moren are we still on for drinks tonight," Siri would understand that you wanted to compose a message to Dan. But it would still ask you what you wanted that message to say; you had to stick a cue word such as "say" after your friend's name to work around that limitation.
In iOS 6, you don't need that extra verbiage. In fact, if you precisely recite the quote above, Siri will now handle it with aplomb (presuming that your iOS device includes Dan Moren in its contacts).
Also new in iOS 6, Siri can help you post to Twitter. Say "Tweet I'm checking out App.net," and Siri will handle the rest. And you can now use the voice assistant to post to Facebook. Say "Write on my wall I love Mark Zuckerberg" or "Post I'm wearing a hoodie to Facebook," and it will make your feelings known to all your friends.
You can launch apps with Siri, as well. Just say "Launch Facebook," "Play Tiny Wings," or "Open Tweetbot," for instance, and Siri will take care of it for you. If your iPhone is locked with a passcode, Siri will prompt you to enter it before launching the app. You can ask Siri to close apps, too—but the only response will be that Siri can't actually do that.
Updated at 11:50 a.m. ET to correctly reflect the fact that posting to Twitter via Siri is new, and not from iOS 5.