Apple announced at Wednesday's press event that the newest version of the company's mobile operating system, iOS 6, will be available for users to download on September 19. The update will be free and available for the iPhone 3GS, iPhone 4, and iPhone 4S; the fourth-generation iPod touch; and the the second- and third-generation iPads.
If you have iOS 5 installed, you'll be able to download iOS 6 over the air on the 19th via the Software Update screen in the Settings app; if you're running a previous version of iOS, you'll have to use iTunes.
The newly announced iPhone 5, available September 21, and the fifth-generation iPod touch, available in October, will ship with iOS 6 pre-installed, as will the fifth-generation iPd touch.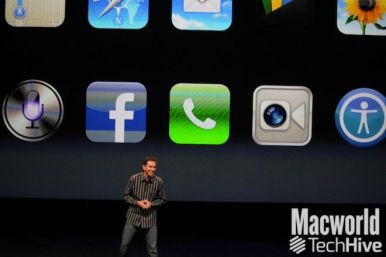 Senior vice president of worldwide marketing Phil Schiller announced the date on-stage at Wednesday's press event after senior vice president of iOS software Scott Forstall took the stage to provide a brief demonstration of some of the new features coming to Apple's mobile operating system. some of which had already been previewed in June at Apple's Worldwide Developers Conference.
Upcoming iOS 6 features
Maps: Apple's new operating system comes with a brand new Maps system, featuring vector-based maps, satellite imagery, free turn-by-turn directions, points of interest displayed inline on the map, and new 3D Flyover locations including San Francisco, London, Boston, and Sydney.
Notification Center: With iOS 6, you'll be able to send a tweet or Facebook status directly from Notification Center. Facebook has also been built into iOS system-wide, so you can use Siri to send a status message, share images and websites through Facebook, and more.
Safari: Safari sports a fullscreen landscape mode in iOS 6 in addition to iCloud Tabs, which lets you sync your open webpages across any other iOS devices (running iOS 6) and Macs (running OS X Mountain Lion) that are connected to your iCloud account.
Mail: You can designate Very Important Persons both within Mail on iOS 6 and on a Mac running Mountain Lion; messages from those VIPs will show up in a special folder in Mail on iOS 6. In addition, you can create special notifications for those VIPs in Notification Center.
Flagged messages also now appear in a new Flagged mailbox.
Passbook: Apple's sole new app in iOS 6, Passbook lets you store and collect all your passes and tickets digitally, whether they be movie tickets, boarding passes, coupons, concert passes, or store cards.
You can shred tickets when you're done with them; certain store cards and passes will automatically appear on your lock screen when you're nearby the location indicated on the pass.
Shared Photo Streams: A new addition to the Photos app, Shared Photo Streams lets you collect images to share with family and friends via iCloud or via the web. You can comment on images shared to you, and like them as well.
Siri: If it's sports or movie queries you have, Siri's your man—hypothetically speaking. Apple's virtual voice-driven assistant can also launch apps, make reservations for dinner, and post to your social networks.
… And even more: Though not demonstrated on-stage, Forstall also briefly mentioned iOS 6's updates to the Phone app, FaceTime over cellular data, and the accessibility feature Guided Access, which limits users to a single app and can disable buttons.
Stores for iOS
After Forstall's demonstration, senior vice president of of Internet Software and Services Eddy Cue came to the stage to demonstrate Apple's new take on its mobile stores for iOS 6.
Apple's three mobile stores—the iTunes store, App Store, and iBookstore—now have a unified matte black design and sport improved performance. At launch, a big carousel of featured apps, music, videos, or books greets the user; in addition, the individual product pages have been revamped, adding Facebook Like and Twitter sharing buttons and background music samples while browsing the iTunes store.
Want to know more about iOS 6? Macworld has collected most of the information you need to know in our iOS 6 FAQ.
[Updated at 11:15 a.m. PT to add information about Stores for iOS and update availability.]