Reader Kurt Schwartz prefers some of his text spoken rather than written. He writes:
I have several text files that I'd like my Mac to read to me using its speech software. I know that I can use the Speak command within TextEdit to have that text read to me, but I'd love to be able to save that text as an audio file. Is there a way to do that?
Allow Automator to show you the way. Here's how: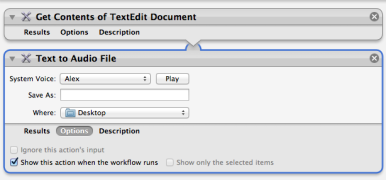 Launch Automator and from the workflow chooser select Application. Choose Text from the Library pane and from the Actions pane to the right, drag Get Contents of TextEdit Document to the workflow area. Now drag Text to Audio File to the workflow area. Click Options in this action and enable the Show This Action When the Workflow Runs option. Save your workflow to the desktop and give it an intuitive name such as "Save Spoken Text."
To use the application just drop a TextEdit document on top of it. A small window will appear prompting you to choose a voice and provide a name for the resulting file. Do that, click Continue, and Automator will render your document as a spoken word AIFF file.