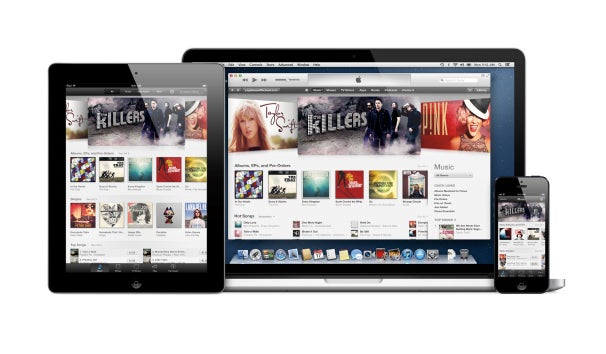 On Wednesday, Apple announced a major update to its iTunes multimedia jukebox and syncing software, with a simplified user interface, the ability to play media from iCloud, a new MiniPlayer, a redesigned iTunes Store, and more.
The new version, to which Apple didn't assign a version number, will be available in late October. At the same time, Apple also updated the current iTunes to 10.7 on Wednesday. iTunes 10.7 adds support for iOS 6 running on compatible iPhone, iPad, and iPod touch models and adds support for the latest iPod nano and iPod shuffle models.
Design
The new iTunes will feature an edge-to-edge design. Clicking on an album expands it in place, and iTunes automatically customizes the look. You can double-click on a song to hear it.
Each album comes with a feature called In The Store so you can see top songs and albums from an artist, along with recommendations. You can also browse your library by artist; click on an artist to just see those albums. Artists can even share photos with you right in your library.
Playlists now appear in a list in the left sidebar when you click on the the Playlists entry. Click Add and you can see the contents of your playlist and your entire library.
Up Next feature
A new feature called Up Next lets you see what songs are coming up next and lets you rearrange them, or just double-click one to hear it. You can also queue up songs to play next, and then go back to your playlist.
Better search
iTunes will now search across your entire library, rather than making you pick Music or TV Shows and just searching within those smaller libraries, say.
New MiniPlayer
Apple also improved the MiniPlayer (the one you get when you click the green button in the upper left corner of the full iTunes window). You now rollover the player for the controls, there's built-in search, and the MiniPlayer supports Up Next as well.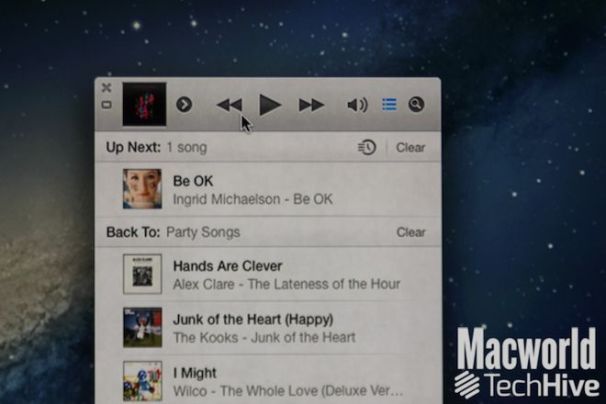 iCloud built in
iCloud is now more prominent in iTunes, with all of your purchases appearing in your library along with local content. Switch to Movies, say, and you can see everything on your computer as well as what's on iCloud.
You can pick up watching a movie right where you left off on one of your other devices.
iTunes Store updates
There's also a redesigned iTunes Store that looks like your store on the iPad. It's quicker to cycle through promos or albums, and previews keep playing in background while you're browsing the Store.
There's also concert info in the Store now, so you can see tour information and what concerts are near you.
[Updated at 12:04pm pacific to add information about iTunes 10.7 availability.]