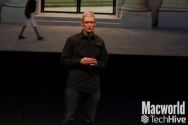 Apple CEO Tim Cook threw out a lot of numbers at the company's media event Tuesday, but perhaps the most startling one was this: The company has sold more than 400 million iOS devices since the first iPhone debuted in 2007.
"No one could have predicted this," Cook said of the company's success with its iOS product lines.
Cook reported that Apple has sold 84 million iPads since the tablet debuted in 2010, 17 million of them in this year's third quarter alone. He said the iPad now commands a 68-percent share of the tablet market and is responsible for 91 percent of all Web traffic originating from tablets. "Now, I don't know what these other tablets are doing," Cook said. "They must be in warehouses or on store shelves, or maybe in someone's bottom drawer."
The iPad has been surprisingly successful in the enterprise sector, Cook said: He claimed that 94 percent of Fortune 500 companies are testing or deploying the iPad, and many of those enterprises are deploying custom apps.
The App Store has been a big part of the success of the iPad and iPhone. Cook said the company had recently approved its 750,000th app; 250,000 of those are made specifically for the iPad. The average iOS customer, Cook added, uses more than 100 apps.
Cook took note of the strength of non-iOS product lines as well. He said that Mountain Lion, the latest edition of Apple's operating system for Mac, had been downloaded more than 7 million times since its introduction in June—making it the fastest-selling OS of all time.
He also noted that the new MacBook Pro with Retina display had helped the Mac gain a 27 percent share of the personal computing market. Overall, Cook said, Macs continued to grow sales at a faster rate than the PC, increasing 15 percent this year over last, compared to the PC's 2 percent.
iPad (third generation) family