Apple's new iPhone 5 sports a better, faster iSight camera with enhanced still and video capabilities and improved low-light performance. Many of the improvements are software-based.
While the camera is still 8 megapixels, like the previous 4S model, its resolution is now 3264-by-2448 on a retina display. There's still backside illumination, a hybrid IR filter, a five-element lens, and a fast f/2.4 aperture. A new dynamic low-light mode can sense dim light and boost the aperture by two stops.
A new optical system includes precision lens alignment, which Apple says is measured down to the micron level. For the first time, a sapphire crystal lens promises clearer and sharper images. The ability to take macro and close-up photos has also improved.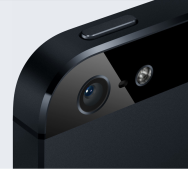 A new image signal processor is built into the iPhone 5's new A6 chip, and Apple says that the camera is 40 percent faster than its predecessor and has 44 percent more color saturation than the previous model. Spatial noise reduction removes noise via a smart filter that looks at images and performs noise reduction and figures out which areas should be of uniform color or texture. That improves low-light performance, overall.
On the software side, there's now a panorama capability. The process, as demonstrated in the keynote, is easy. Just tap, hold the phone vertically, and sweep the scene you want to capture. According to Apple, the camera, the device's gyroscope, and high-powered new chip work in concert to capture up to a 240-degree panorama span of up to 28 megapixels. Software tells you what pace to move it at, on the fly. The software is designed to compensate for camera movement and some jerky motion.
The new Shared Photo Streams feature lets you gather images to share with share images with friends and family via iCloud or via the Web and accepts comments and Likes.
Video enhancements
The iPhone 5 features improvements in video as well. Alongside the 1080p HD video, which is the same as the 4S model, there's improved video stabilization, face detection for up to ten faces, plus you can shoot still photos while recording video.
The biggest boost comes to the front-facing camera, which is now FaceTime HD that shoots 720p with backside illumination as opposed to VGA. FaceTime over cellular promises better quality conversations.
Camera on the iPod touch
Many of the iPhone's visible and technical improvements also made their way to the iPod touch, its non-telephonic companion, that has an A5 chip.
The iPod touch camera is a 5 megapixel model with auto-exposure, which sports better performance in low light, the phone's new panorama capability, and the ability to use iPhoto. It features all of the iPhone 5's sensors, lenses, auto focus, LED flash, and the new sapphire crystal lens cover.
Video features are similar to the iPhone 5 as well. The iPod touch has 1080p video with image stabilization and face detection, and 720p HD FaceTime camera on the front.
Article updated at 11:42 a.m. to add details about Shared Photo Streams feature.
Article updated at 11:49 a.m. to include details about the iPod touch camera.
Article updated at 2:00 p.m. to add clarifications, amplifications, and new images.