Alongside its new iPhone and iPod models, Apple also unveiled a new set of $29 earphones.
The new product—dubbed EarPods—replaces the earphones that have been shipping with Apple's portable devices for more than a decade.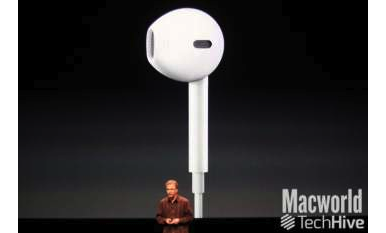 Apple vice president of iPod, iPhone, and iOS product marketing Greg Joswiak said that Apple has shipped over 600 million sets of headphones—making 1.2 billion little speakers in the process. "Doing a great headphone is hard, because ears are really really challenging," he said. "But you gotta make one size fit all."
Apple spent three years designing its new EarPods, which Joswiak described as "unlike any headphone you've ever heard before."
Joswiak said that Apple made 3D scans of hundreds of ears, and that the shape of the EarPods are defined by ear geometry, but don't create a seal in the ear. While he acknowledged that it's exceedingly difficult to make a headphone that fits all ears, he said that that's what Apple's goal is with EarPods.
The EarPods will ship as a standalone accessory starting immediately, but will be included gratis with the iPhone 5, the new iPod touch, and the new iPod nano. They are available to order now from Apple's website.
Updated 3:08 p.m. ET with pricing and store link.