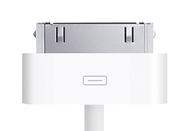 The iPhone 5 offers many improvements over its predecessor, including a larger screen, better performance, LTE, and an improved camera. But for those upgrading from an older iPhone, there's another change that might prove to be more significant, at least when it comes to compatibility: a new dock connector. Apple has done away with its proprietary—and nine-year-old—30-pin connector in favor of a new, smaller alternative. Why did Apple make the change? And what does it mean for you—and for your existing accessories? Here's a look at this new connector, dubbed Lightning.
30 pins, nine years
Apple's 30-pin dock-connector port has been a staple of iPods, iPhones, and iPads since the third-generation iPod hit store shelves back in 2003. While most media players offered simple USB connectivity for data and charging, Apple's single port offered a slew of functionality: power, audio-out, playback control, and speedy data syncing were among the initial features.
Over the years, the 30-pin port has gained some features (HD-video output, photo importing, and USB input, for example) while losing others (FireWire charging and data transfer), but it's served us—and Apple—well: Along with Apple's Universal dock-cradle design, the 30-pin port ensured that if we bought an accessory with a dock connector—speakers, docks, car chargers and mounts, you name it—that product would work with any recent i-device.
But the 30-pin dock-connector port wasn't without flaws. For starters, it was somewhat fragile, making it prone to break either the accessory or, worse, your iPhone or iPod under stress. The connector's thin profile and only-fits-one-way design also made it more difficult to use than, say, a standard USB port: Depending on the device and the accessory, it could be a challenge to line up the connector and port (especially on the iPod touch and recent iPad models, thanks to their curved edges). Finally, the 30-pin connector took up a lot of space, both on the outside and the inside, and as Apple's phones, tablets, and media players are getting smaller and thinner, that real estate has become more and more precious.
First Thunderbolt, now Lightning
All of which is to say that we shouldn't be surprised that Apple has, with the debut of the iPhone 5 and new iPods, slimmed down the dock-connector port. Specifically, the new models sport what Apple is calling the Lightning connector. (Yes, Apple now has Thunderbolt and Lightning connectors. Cue " Bohemian Rhapsody" jokes.)
The new connector uses an 8-signal design that works in both orientations, so you never need to worry if you've inserted the plug wrong-way-up. Apple says that in addition to being easier to use, the Lightning connector is also more durable than its predecessor. The company also describes the new connector as all-digital and adaptive, with the latter meaning that it uses only the particular signals that each accessory requires.
As with the 30-pin connector, the Lightning connector supports video output; Apple told Macworld that Lightning-to-HDMI and Lightning-to-VGA cables will be available "in the coming months."
Of course, the other big advantage of the Lightning connector is its size: It's 80 percent smaller than the 30-pin connector, which means the space required on your device to accomodate the new plug is smaller by at least the same amount—and that's not counting the reduction in the amount of interior circuitry required to support the connector's features. This new, smaller connector is part of the reason the new iPhone is 20 percent thinner than the iPhone 4S. (The other part is that the iPhone screen's touch sensors are now integrated into the display, so the display itself is thinner.)
Adapt or buy
Easier to use, sturdier, smaller—what's not to like? The downside of this change is that the new Lightning connector renders Apple's latest devices incompatible with the millions of 30-pin-connector accessories on the market and in people's homes. Apple includes with the new iPhones and iPods a USB-to-Lightning-connector cable, but no adapter to use the new devices with older accessories.
If you've got expensive older accessories that you don't feel like replacing, Apple offers the $29 Lightning to 30-pin Adapter and the $39 Lightning to 30-pin Adapter (0.2 m) (the latter a 20cm cable), each of which lets you connect older 30-pin-dock-connector accessories to the new iPhone and iPod models. (Extra Lightning to USB Cables will run you $19 a piece.)
Apple has confirmed to Macworld that these adapters support analog and USB audio-out, as well as syncing and charging. However, the adapters don't support video-out or iPod mode, the latter a special mode that lets particular accessories, such as car stereos and some whole-home-audio systems, display your iPod's menus on the accessory's own screen. More cryptically, the online Apple Store's product pages note that "some 30-pin accessories are not supported."
Astute readers may have noticed that the Lightning connector does not support analog audio-out, but the 30-pin adapters do. That's because hidden away inside each 30-pin adapter is a digital-to-analog converter (DAC) that converts the Lightning connector's digital audio signal to an analog version. (The inclusion of a DAC explains at least part of the price of the adapters.)
There's also the concern, mentioned by a number of Macworld staffers around the office, that using an iPhone 5 with an older, 30-pin accessory risks putting a lot of pressure on both the phone's Lightning port and the accessory's dock connector thanks to the additional leverage added by the length of the adapter. We'll see how warranted this concern is once we start testing the new phone and the adapters.
Of course, if you're averse to adapters, or if you've been thinking about upgrading your older accessories anyway, Apple notes that companies are already working on Lightning-connector accessories—during Wednesday's event, Apple senior vice president Phil Schiller specifically mentioned Bose, JBL, Bowers & Wilkins, and Bang & Olufsen. (For the latest in new iOS accessories, follow our weekly roundups.)
It's also worth noting that Apple has released a Lightning to Micro USB Adapter, presumably to comply with European Union requirements. This adapter supports only charging and syncing. (Thanks to Matthew Panzarino for spotting this.)
Read Macworld's hands-on with Apple's Lightning-to-30-pin adapters
More wireless, but still wired
What's perhaps most interesting about the change to the new Lightning connector is that it reflects changes in the ways we're using our iPhones and iPods. As Schiller noted during Wednesday's Apple event, "So much has changed and so many of the things they used to do over the wire can now be done wirelessly. Bluetooth for speakers, headphones; Wi-Fi for audio, syncing; and iCloud for downloading content wirelessly and backup." In other words, Apple doesn't think we need physical connections as much.
Still, physical connections remain necessary for charging, higher-speed syncing, and the best audio quality, to name a few uses. (Don't be fooled by "wireless" charging add-ons—there's still a cable or physical connection somewhere.) Until wireless charging like that found on the new Lumia 920 becomes widespread, and can be added without making the iPhone significantly thicker, we're stuck with cables. And as Schiller told All Things D's Ina Fried, "This is the new connector for many years to come."
[Dan Frakes is a senior editor for Macworld, specializing in iOS and iPod accessories.]
Updated 11:15am to add note about analog audio-out and the Lightning connector, and to add a mention of the Lightning to Micro USB Adapter. 11:55am to add info about iPod-out mode. 2:50pm with additional information from Apple on video-out, analog audio-out, the 30-pin adapters' DACs, and the adaptive nature of the new connector.