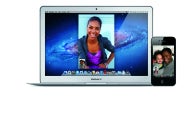 Verizon Wireless will let iPhone customers use the FaceTime video chat application over its cellular network, the company said Wednesday.
Until now, FaceTime chats could only occur over Wi-Fi. But with next week's launch of the iOS 6 operating system for iPhone and iPad, the video chat technology will also work over cellular connections. Apple announced FaceTime's capability during its iOS 6 preview at June's Worldwide Developers Conference.
Verizon joins Sprint, which said in July it would offer FaceTime usage over its cellular network as well. The third major official iPhone carrier, AT&T, has taken a different route—announcing in August that iPhone customers can get FaceTime on cellular only if they subscribe to the company's new Mobile Share plan that lets users create a single "bucket" of data access for all their mobile wireless devices.
iPhone users, of course, aren't limited to the three major, official carriers.
T-Mobile this week announced it would make an aggressive push to sign up the owners of "unlocked" iPhones to its service on a $70-a-month unlimited data plan. The company on Thursday declined to comment about whether that unlimited data includes FaceTime use—but that may not matter in most markets: Though the company is increasing its data speeds in a few big cities, in many locations customers are still limited to slower EDGE speeds, which would limit the possibilities of live streaming video on that network.
There are also regional carriers. Alaska Communications, Appalachian Wireless, GCI, and nTelos were either unavailable or did not immediately respond to queries about FaceTime. A spokesperson for Cellcom said that company had not yet determined whether it will allow the video service on its cellular network.
iOS 6—and the capability of using FaceTime over wireless networks—launches Sept. 19.
[Updated at 10:52am pacific to say that T-Mobile declined to comment.]