Rosanne Cash is best known for three things: her lush voice, the folk/country/rock/blues songs she composes and sings, and an affinity for her father Johnny Cash's music, which she mingles into her repertoire. Less well known is her addiction to technology for both personal and business purposes, which bit her and at least hundreds of thousands of iCloud users over the last few days during an email outage about which Apple has provided few details.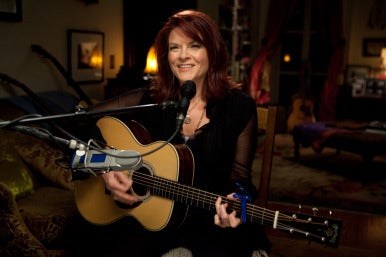 Cash, an avid Twitter user who last year performed a concert drawn from followers' requests from a new album, took to that social network when iCloud went down. She wasn't alone: Twitter, Mac user forums, and Apple's support boards were filled with complaints, anger, and questions about an estimated 30-hour failure in iCloud email. But Cash puts a prominent face on an outage that affect many more users whose experiences might otherwise go unnoticed.
During that time, according to the iCloud status page, first less than 1 percent and then 1.1 percent of iCloud users couldn't check email either via an email client or the iCloud website. The site continues to update with terse data about affected users and the time of the next update. Apple hasn't responded to Macworld's request for information about what caused the outage and how it was communicated to users. While iCloud has 150 million users, Apple doesn't break out how many of those rely on email. It is likely only a modest fraction because iCloud may be enabled without creating a Me.com address, unlike its predecessor, MobileMe. (I have an iCloud email address which receives spam and email offers from Apple, and I never check it.)
Despite Cash's public profile, she and her husband and collaborator John Leventhal are their own IT support, and she relies on email to manage the million details of a hard-working, touring musician. She uses an iPad on the road, and uses Twitter to maintain friendships and have conversations during some of the long hours of driving or flying between gigs. Their home is full of Macs and iOS devices.
In an interview (via her iCloud email, ironically enough), Cash explains that she works with several charities that send a stream of messages, has time-sensitive offers for concerts come through from her agent ("this offer expires tomorrow morning!"), and takes requests for press interviews. She's also a mother of five, and has to deal with the routine for her remaining kids at home, as all parents do, for meetings and back-to-school arrangements. And that's just the start of her list of what she's juggling, which includes collaborating on an album and book. (I hesitate to call her the hardest working person in rock-and-roll, but she does have a rather busy schedule.)

Apple managed to restore incoming email to iCloud users Wednesday morning (which is how this reporter managed to get through to Cash), but queued email remained in a bunch that, based on tweets and posts by affected users, took until the evening or beyond to finish clearing out. As of Thursday morning, Apple's status page says only 0.02 percent of users remain affected.
Cash received hundreds of messages Wednesday night, between the two days in which she's hosting a "trunk" show for a clothing-designer friend at her house. Some of those who planned to come had emailed her about bringing friends, who she couldn't reply "yes" to. Likewise, many of my friends and colleagues were scrambling to figure out which balls had dropped by Wednesday night, and hoping to recover lost time, missed appointments, and business deals that were going astray.
It's not uncommon for large services to have outages, although 30 hours and an additional six to 18 hours to clear a mail queue is unusual, and nearly unprecedented for firms of Apple's scale. What remains problematic is that, despite a promise by the firm during the debacle of the .Mac to MobileMe transition to communicate more frequently and fully, it has failed to provide guidance or insight into what's happened, nor why users should trust it to prevent such problems in the future or limit their duration.
"It's shocking how dependent I am on it," writes Cash, as she sorts through the detritus of two days' messages. She speaks for many. iCloud is a free service and one should always be dubious about the value of receiving something for free. Like others, Cash is looking into an alternative email provider—one she pays for.
[Glenn Fleishman is a senior contributor to Macworld, and also contributes to TidBits and the Economist.]