The hits just keep on coming: Apple on Thursday launched Web-based versions of Reminders and Notes, joining existing versions of Mail, Contacts, Calendar, Find My iPhone, and iWork on iCloud.com. The two apps were first hinted at several months ago, after the leak of a developer preview.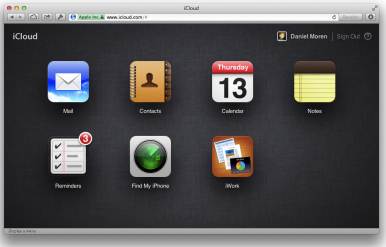 The iCloud versions of Notes and Reminders strongly resemble their iPad counterparts in both look and functionality. Most of the differences are concessions to the point-and-click interface: For example, you can't swipe to delete to-do items; instead you'll have to click the Details button next to an item and then click Delete. Nor can you create location-based reminders via the Web interface, though you can see locations for to-do items that you've created on other devices. Notes, for its part, appears locked to Apple's Noteworthy font.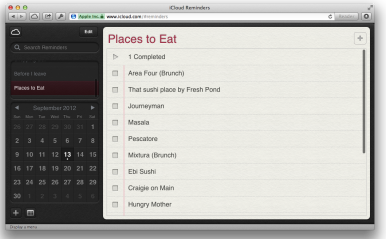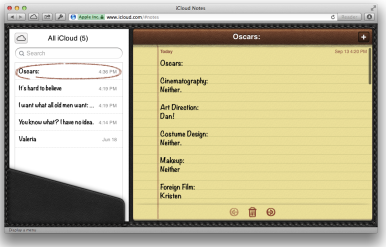 Both apps also add an iCloud icon in the top left that can be used to go back to the Web service's main menu of apps.
Any changes made in either the Notes or Reminders Web apps show up nearly instantaneously in all the other versions of those apps, as long as you are syncing the information with iCloud. For those keeping score at home, that means your iPad, iPhone, and Macs running Mountain Lion should now all be running in perfect harmony. (Well, as much as such syncing ever works "perfectly.")
Apple also made some smaller tweaks to the Find My iPhone app, but despite the company's public ditching of Google-powered Maps in its iOS devices, the Web version of Find My iPhone still currently relies on maps from Mountain View. (That might change when iOS 6 is officially released next week).
In another small addition, it appears that you'll now receive iOS-style banner notifications if, for example, email arrives while you're using one of the other Web apps. As on iOS, clicking on an email notification will take you to the Mail Web app. If you click on your account name from the main iCloud menu, you'll find a new Notifications section that lets you enable or disable individual alerts for Mail, Calendar, Reminders, and Find My iPhone. The Reminders app will also place a badge on its icon if you have to-do items that are due.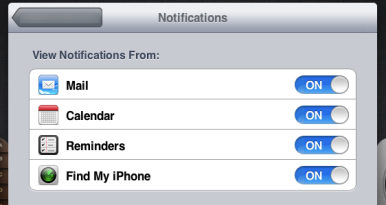 The Reminders and Notes apps fill a logical gap in iCloud's Web offerings, though they seem to be there more for the sake of completeness. These additions come on the heels of a lengthy iCloud mail outage that affected thousands of users through Thursday morning.