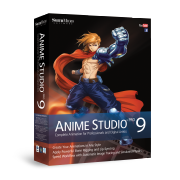 As the popularity of animation grows, and the complexity of its creation eases, Smith Micro has released upgrades to its Anime Studio line of 2D animation packages: Anime Studio Pro 9 and its consumer-based companion, Anime Studio Debut 9. This pair of cross-platform programs offer digital artists alternatives to frame-based animation to create movies, cartoons, anime, and cut- out animations.
The Pro version is designed for professional animators, while the Debut version is targeted to animation novices and hobbyists who want to work on creative projects. Both versions are available now and compete with similar packages such as Toon Boom Studio and even Adobe Flash.
New Pro features
The Pro version got a high-profile upgrade with new features such as Motion Graphs and Smart Bones that seek to break down the creation of complex actions into easier and more visual operations.
New editable motion graphs, which let you edit motion curves directly with Bezier handles rather than via tweening or ease-in and ease-out operations, provide better control over animations, the company says. With motion graphs, animation channels on the current layer are displayed graphically, rather than simply as points along a line. You can also scale key frames vertically on the motion graph and then apply relative key frame changes.
The new Smart Bones function seeks to reduce distortion around character joints such as knees and elbows, and has other uses such as setting up bones as control levers on various inanimate objects. The feature is designed to improve the quality and realism of bone actions, and make it easier to repeat complex movements and control rigged elements. For example, you can group a set of points and use the Smart Bones control levers to create 3D-like motion that you can repeat with the turn of a dial. Smart Bones also lets you control facial expressions and character head-turning with simple lever movements rather than having to touch each bone point.
Layer comps let you export multiple layers individually with one click—convenient for exporting only selected items in a scene for further work in other software packages. This feature also lets you turn groups on and off until you get elements that logically belong together. You can then create a new layer comp from that group. When it's time to render, you can then choose to render specific layer comps as a movie file.
Version 9 also has updates to features such as onionskinning, scripting, drawing tools, and the timeline. The Texture Budget memory management tool automatically downsizes images when your computer starts running out of memory.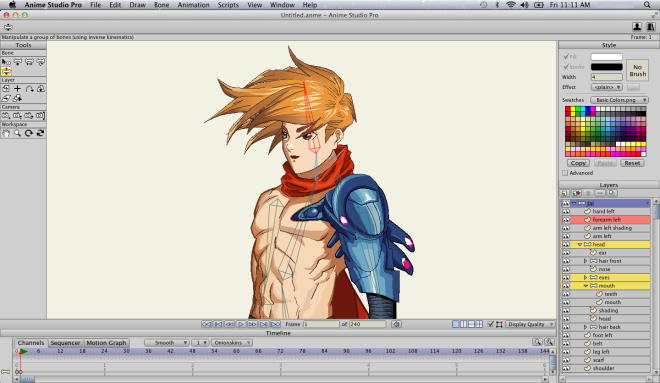 New Debut and Pro features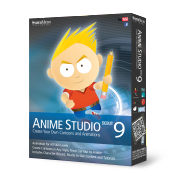 Both the Pro and the Debut versions offer a multitude of new characters and let you adjust and design characters with the program's built-in character wizard. Select a preset, dial in body proportions, and choose from a library of 2D components such as hands, feet, mouths, eyes, noses, and heads.
The Smart Tool Palette sports an uncluttered interface, which is redesigned to make using the program's enhanced drawing tools faster. The Translate, Scale, and Rotate tools are now combined into a single "super tool" called the Transformation tool.
Text input now allows for greater flexibility in specifying font, line width, color, kerning, and more. You can now use built-in word balloons in your animations.
Key frame creation also got easier: You can now double-click on the timeline to add key frames. One or several key frames can now be moved past each other. You can even assign colors to keyframes in the timeline to help keep track of related animation sequences. And you can now hold the duration of a particular key frame for as long as you want. Colors can also be assigned to layers in the layers palette, helping you keep track of related layers.
For users with tablets, the new Pro and Debut versions offer enhanced Wacom multi-touch support for Bamboo, Intuos, and Cintiq touch-based models. You can now edit characters, scale, rotate, pan, and zoom in and out of the canvas with familiar finger gestures.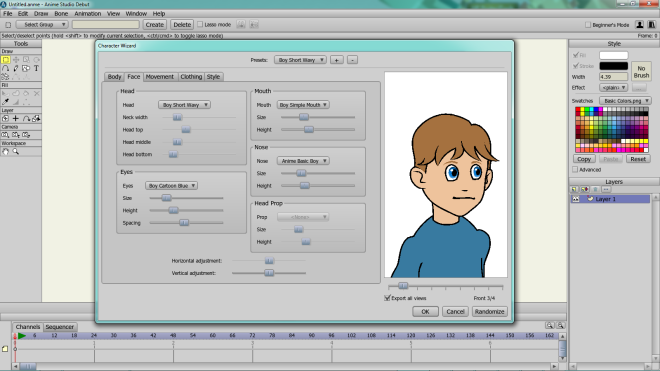 System requirements and price
Anime Studio Pro 9 is now a 64-bit application with GPU acceleration for improved performance. Both programs work on Macs with a 1.5GHz Intel processor or above, running Mac OS X 10.6 or higher. On the Windows side, both versions run on XP, Vista, or Windows 7 or 8 with a 1GHz Intel Pentium or equivalent processor, and IE 8.
The Pro version is $200; the Debut version is $50. Upgrades are $150 and $20 respectively. Smith Micro is also offering new buyer discounts until September 30, and a free webinar on September 12 via its Website.