At a Glance
Expert's Rating
Pros
Multi-user/multi-platform capabilities
Subscription-based centralized time tracking available
True double-entry accounting
Cons
Reports and graphs are very old fashioned
Backend UI feels old
Our Verdict
Acclivity's AccountEdge Pro is the powerful, significantly more feature-rich big brother to the company's very good entry level business account application, AccountEdge Basic ( ). Both are built on the same double-entry accounting foundation, but AccountEdge Pro offers significantly more features and capabilities, including inventory management, purchasing, time-billing, and payroll. AccountEdge Pro also includes a combination of about 20 new features, enhancements, and improvements.
AccountEdge Pro has changed very little over the years, at least in terms of the way it looks and feels. AccountEdge Pro uses the same flowchart-like interface it has used for more than 15 years to guide you through every aspect of your business' financial life and to help you see how each aspect of your business is linked together. There are shortcuts at the top and bottom of the program's Command Center that allow for quick access to all of the program's features and Acclivity has added a new sidebar to provide quick access to your favorite and most recently used program modules.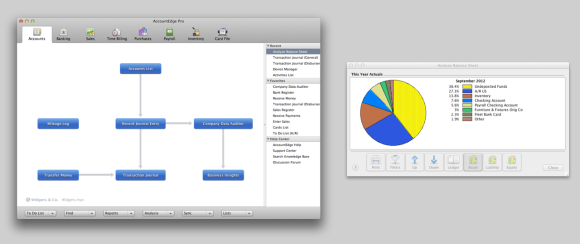 As is the case with AccountEdge Basic, AccountEdge Pro requires at least a rudimentary understanding of double-entry accounting terms and processes before you get started, if only to help you avoid any confusion when setting up your company file. This shouldn't scare you; AccountEdge Pro is a true double-entry accounting application, and Acclivity offers a number of useful videos on their site to help alleviate some of that initial accounting angst.
Among AccountEdge Pro's new features are a mileage tracking tool that helps you track mileage rates and miles traveled both for vehicles that you own and those owned by your employees. The new mileage log allows you to bill customers for mileage traveled and you can link mileage to specific jobs.
Updates to the program's Welcome screen allow you to perform basic file maintenance without requiring you to open your data file and you can use the Welcome screen to restore data files from backups saved on an external disk or Dropbox. Dropbox can also be used to centralize data so that it can be updated using Acclivity's iOS apps.
The program still offers one of my favorite business accounting features: a single data file that can be used by both Windows and Mac versions of Acclivity's accounting programs. Acclivity also offers a multi-user version of the application that allows all of your users to access your file simultaneously, whether they are working on a PC or a Mac, and the program's security features allow you to put limits on the information users can access.
AccountEdge Pro also allows you to do business using multiple currencies and exchange rates and create custom inventory items that consist of a number of other items in your inventory. So, for example, if you sell a toolkit that consists of a toolbox, Philips Head screwdriver, Torx screwdriver, and a tape measure, each of which is a already a separate inventory item, you can combine all of those items and sell them as a single unit consisting of those inventory items.
For time billing, AccountEdge Pro allows you to set separate billing rates for different employees as well as fixed rate pricing for for specific services. Acclivity also offers a subscription-based time billing options that allows your employees to enter time billing information via a Web portal which you can automatically process and bill for using AccountEdge Pro.
If I have one major issue with AccountEdge Pro it's that the program is beginning to feel a little tired. While the Command Center interface has seen some minor improvements and had a few facelifts over the years, the backend looks and feels almost exactly the same as it did when the program first made its move from OS 9 to OS X oh-so-many years ago. Data entry screens feel flat and one-dimensional and the graphs used in reports make no use of OS X's amazing graphic capabilities. In short, while AccountEdge Pro remains an excellent accounting application, it's in need of a GUI overhall to what's under the hood so that it matches what you see when you're using the Command Center.
Bottom line
AccountEdge Pro remains one of my favorite small business accounting applications. Its true double-entry accounting backend make it the best tool for tracking and reporting your business' financial health. But, 12 years on, it's time for Acclivity to update the program's user interface and make use of the incredible graphics capabilities of OS X. While it has no effect on the general usefulness of the AccountEdge Pro, the program's graphs and data entry screens give you the feeling that AccountEdge Pro has been lost in time.