Toca Boca makes awesome apps for kids. They're not games so much as toys—digital toys that exist only on the iPad or iPhone's screens—but real toys nonetheless. In fact, Toca Boca is the only company that really makes me question whether the limits I set on my kids' iOS screen time are fair; these apps rely on active play.
Given my (and my kids') affection for the company's apps, it won't surprise you that I leapt at the chance to test Toca Boca's latest offering, Toca Band. It's an app for both iPhone and iPad, and it's focused on music. My kids love it. I merely tolerate it. Watch the video review below, and read on for my full analysis.
Were you in my shoes—tasked with reviewing Toca Band—you would now face this question: How do you review an app for kids, if your kids love it, and you merely tolerate it?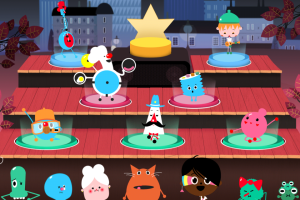 Let's start by explaining what the app really is. As is characteristic of Toca Boca, Toca Band features bright, colorful, well-drawn visuals. When the app starts, you see a nearly empty stage, atop which sit eight performing platforms. Across the bottom of the screen is a scrolling row of 16 animated characters.
You can drag any of those comical critters into any position on the stage. Some of the characters are musicians playing instruments. Others are creatures who are themselves instruments who thus instead play themselves. And there are four singers: a girl, an older woman, a whistling older gent, and a strange rapping, beatboxing, cap-wearing young man consisting of a head, arms, and legs— but no torso. Of course.
The further back you place a character, the more boisterously he, she, or it will play its instrument. Drag the chef/drumkit hybrid to the front row, for example, and he'll tap out a simple, low-key beat. In the middle row of the stage, he jazzes things up a bit. In the back row, though, he lets loose with a much more uptempo rhythm with oodles of fills and cymbal crashes.
But while the drummer is the heart of any band, you (or your kids) will likely want to add some instrumentation, too. As you might guess, there's no way to assemble the band that won't yield a reasonable, melodic tune.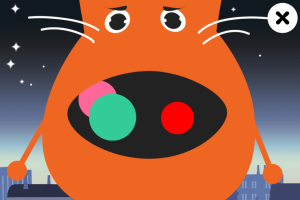 There's a special star spot on the top row of the stage. Drag a band member there, and you get to play the instrument directly, as the rest of the band jams along in the background. Some instruments, like the keyboard, are immediately straightforward to play; others, like the cat that makes ethereal noises using colorful spheres floating inside its mouth, require more discovery to figure out how to play them. That discovery, though, is good fun: Some characters make different sounds when you try using more fingers.
Astute parents—which, in this case, I'm defining as "any parent who ever had a kid with a toy that makes a noise"—will likely be wondering just one thing: What songs does the Toca Band play?
The problem, dear reader, is that the titular Toca Band knows but one song. The bigger problem still is that said song, at the end of the day, consists of the same five chord progression, repeated infinitely and unceasingly. Sometimes the musicians mix things up a little bit in terms of how they play their parts, but the melody never changes. And it's just four measures long—fewer than seven seconds.
Toca Boca, I love you, but this is unconscionable.
I haven't even mentioned yet that some of the instrumentation itself can quickly become painfully grating. I think here of the older woman with her vibrato-laden aria, or the bouncing frogs with their brain-pounding bouncy sound effects. As you listen to that same melody line repeat endlessly, the elderly woman shrilling away, you'll likely conclude—like me—that is the sort of technique the CIA might use to break enemy spies.
If you can get past the annoyance of Toca Band's infinitely repeated, too-brief melody, there are two other issues with the app: It doesn't require nearly the level of creativity that its other apps do, for one. Outside of tapping away to play an instrument's limited repertoire of in-key notes, there's not much for kids to do beyond drag and drop bandmates around. And the second flaw is one that's common to Toca Boca apps: It doesn't resume automatically. So if Junior accidentally taps the Home button, his carefully-assembled band is gone, at least for the 30 seconds it takes him to recreate the group after relaunching the app.
Bottom line
At the end of the day, though, as I've said: My kids love Toca Band. Yours probably will, too. But Toca Boca can—and often does—do better.