iOS 6 is upon us. Apple on Wednesday, as promised, released the new version of the operating system that powers the iPad, iPhone, and iPod touch.
You can upgrade to iOS 6 in a couple of ways. Option one is to upgrade from your device itself: Launch the Settings app, tap General, tap Software Update, and then follow the on-screen prompts to download and install the software. Option two is the old, tethered approach: Connect your iOS device to iTunes with a USB cable, and use your computer to download and install the software update.
iOS 6 contains a variety of new, hallmark features—but they won't all necessarily work on your device; Wednesday's release marks perhaps the most diverse iOS release to date, in terms of which features work on which devices.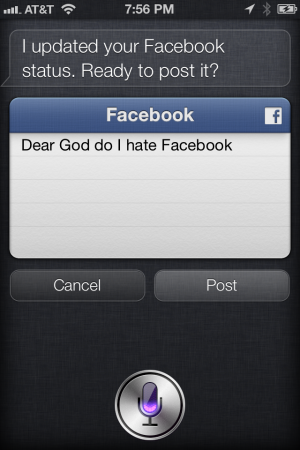 You'll need an iPad 2 or newer, an iPhone 3GS or newer, or a third-generation iPod touch or newer to upgrade to iOS 6—the original iPad and older iPhones and iPod touches aren't eligible. The full feature list of upgrades in iOS 6 includes an overhauled Maps app complete with built-in turn-by-turn navigation, new Siri functionality like support for launching apps and getting movie and sports information, systemwide Facebook integration akin to iOS 5's Twitter integration, and a slew of updates to existing, built-in apps: shared Photo Streams, Panorama photography mode, FaceTime over cellular, and updates to Mail, Safari, the App Store, Phone, and more.
Of course, if you upgrade to iOS 6 from an iPhone 3GS, you'll miss out on turn-by-turn navigation and the new flyover mode in Maps, shared Photo Streams, FaceTime, Siri, Panorama, and Safari's new Offline Reading List. The iPhone 4 gains access to shared Photo Streams and Offline Reading List, but misses out on the turn-by-turn, FlyOver, FaceTime over cellular, and Siri.
The iPhone 4S and the iPhone 5 gain access to all of iOS 6's new features. The iPad 2 lacks Siri; the third-generation iPad gains access to that voice-recognition assistant in iOS 6. Panorama is limited to the iPhone 4S and iPhone 5, and doesn't work on any iPad. FaceTime over cellular works on the third-generation iPad, but not the iPad 2.
Got all that?
In short: The newer your iOS device, the more iOS 6 features it will support—a statement not all that surprising.
iOS 6 is free.
Macworld will post our complete review of iOS 6, along with feature-by-feature guides, over the days ahead. You can read our iOS 6 FAQ now.