Hot on the heels of Wednesday's iOS 6 launch, Major League Baseball became one of the highest profile companies to publicly embrace Passbook, unveiling mobile ticketing through iOS 6's digital passes and card management feature.
Passbook is one of the flagship additions to Apple's mobile operating system in the iOS 6 update. It's also been something of a mystery to iOS device owners, as Apple had offered few specifics prior to Wednesday's iOS 6 on how exactly the feature would work.
That changed Wednesday night when MLB Advanced Media, the interactive media arm for Major League Baseball, announced that four teams would support ticketing through Passbook. Fans attending games for the San Francisco Giants, New York Mets, Boston Red Sox, and Kansas City Royals will be able to store electronic tickets on their iPhones and iPod touches and use them to attend home games for the rest of the 2012 season.
I had the chance to see Passbook in action Wednesday night, as MLB Advanced Media showed off the service at a San Francisco Giants home game. Here's what you can expect from this new addition to iOS 6—at least if you and your iPhone are heading out to a ballgame.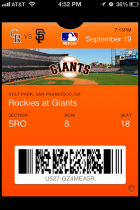 Because Passbook is such a new feature, this is the first ticket I've used through the app, and I found using Passbook to be really easy and straightforward. After receiving an e-mail confirmation about my ticket purchase, I opened the e-mail in Mail on my iPhone, then I tapped a link that read "Click here Add to Passbook." From there, Passbook launched to reveal a bright orange ticket. Tap the small Info button in the bottom right corner to flip the ticket over, which shows the venue address and phone number, along with the ticket's terms and conditions, and a toggle switch to show your ticket on the Lock Screen. (Passbook is aware of your location, so that tickets, cards, and coupons can appear on your lock screen when you arrive at the appropriate venue.)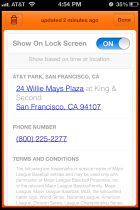 When I got to AT&T Park, my Passbook ticket was scanned just like a regular (paper) ticket. I was then issued a small paper receipt as a backup in case my iPhone ran out of juice, and for something easier to show as a proof of purchase. It's recommended that you keep the receipt until you exit the ballpark.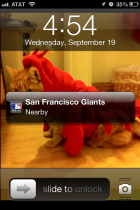 At a media event on Wednesday, Chad Evans, senior vice president of mobile product development for MLB.com, explained that Passbook tickets are first scanned, first served: Once a Passbook barcode is scanned, it is no longer a valid ticket for someone else to use. So, think twice before you share a screen shot of a Passbook ticket to show off this new feature. On the bright side, this does mean that you can give a ticket to someone else if you can no longer make the game—just forward on the e-mail confirmation to someone that also has Passbook, and he or she can open the ticket from there.
If you buy multiple tickets to one game, for, say, your family or friends that are joining you, you can either store all of the tickets in your Passbook app, or you can forward ticket confirmations individually.
Why introduce Passbook to just four stadiums? Its availability has to do with scanning technology, according to Adam Ritter, senior vice president of wireless for MLB.com. Every employee at each of these four parks has been trained on how to handle Passbook tickets, and these parks have the proper technology. MLB Advanced Media expects to integrate Passbook with more parks in when the 2013 season gets underway next spring.
Apple has big plans for Passbook, touting the feature as a way not only to store electronic tickets to sporting events like baseball games, but also boarding passes for flights, coupons for stores, and customer loyalty cards for businesses. Passbook works with iPhone and iPod touch models running iOS 6.