This week's selection covers iTunes Store accounts, Apple IDs, artist alerts, and more.
Q: I used to live in Canada, and my iTunes account is associated with the Canadian store. I have bought hundreds of tracks from there and also have iTunes Match. However, I now live in England, and although I have addresses and bank accounts in both places, for financial reasons it makes sense to swap to the UK store. What impact would doing that have on the content I purchased in the Canadian store and on iTunes Match?
If you still have addresses and credit cards in Canada and the UK, the best course is to keep both accounts. You can't move an account or merge two Apple IDs. At the bottom of the iTunes Store window, you'll see a small, circular flag icon. Click this icon, and you can switch to another country's iTunes Store.
For music that you bought from an iTunes Store (as long as it doesn't have the FairPlay copy-protection Apple used in the early days of the store), you don't have to worry about anything. If you have any videos that iTunes allows you to redownload, you can simply log into the other store when you need to download that content. When you want to update apps, connect to the store where you bought them and download the updates. In future, you might want to buy apps only from the UK store, or you might want to continue buying your apps from the Canadian store. With regard to your iTunes Match account, you can continue to use the Canadian store, or you can choose not to renew your iTunes Match account when it expires and instead subscribe to iTunes Match in the UK store. (You'll spend a lot of time matching and uploading files, but in the long run, this might be the wisest approach.)
Note that if you change stores on a computer or iOS device to redownload content, for the next 90 days Apple won't let you change the account (and in your case, the store) that the device is linked to.
Q: My employer gave me a new iPhone, and I'm trying to change the Apple ID connected to it; it seems to be using the one from my previous employer. How can I change this?
An Apple ID associates not with your phone, but with an account you set up with the App Store, iTunes Store, and so on. Probably, in transferring a backup of your previous iPhone's data to your new iPhone, you also transferred the old Apple ID.
If you want to change the Apple ID that your iPhone uses with these stores, go to Settings -> Store (if you're in iOS 5) or to Settings -> iTunes & App Stores (if you're in iOS 6); then tap the Apple ID section. Tap Sign Out, and then sign in again with your other Apple ID.
Q: We have three iTunes accounts in our house, and I find that we frequently purchase the same songs. Is it possible to create one account that covers all of our purchases to date and then use that account to make purchases in future for all our devices to share?
You can't merge accounts, but you can choose one of them and log in on all of your devices with the same account. If the other accounts purchased music—since Apple's switch to selling music without DRM—you can transfer files from one device to another without worrying. However, if you bought apps, videos, or books, you may find that you have to log out of an old account and log in to the new one in order to redownload them or to get updates.
Using a single account makes a lot more sense, though. Even if it's a bit of a headache in the beginning, over time it will be much easier.
Q: I have an iTunes account and have bought music from the iTunes Store over the past few years. Previously, the store just asked me for my password. But recently when I tried to buy music, it asked me for my Apple ID as well as my password; I have no idea what my Apple ID is. How can I find this?
Well, that's a bit of a pickle. People who use a lot of Apple services are well accustomed to providing their Apple ID, but if you don't, the issue rarely comes up.
One way to identify your Apple ID is to find a song or other item that you purchased from the iTunes Store. Select it, press Command-I, and then click on the Summary tab.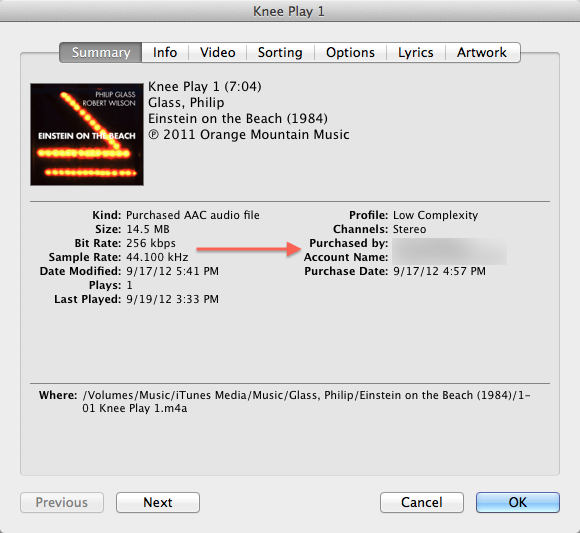 Look at the part that says Purchased By (that will be your name) and Account (that will be your Apple ID).
Q: I'm trying to find a way to remove certain artists from my Alerts from the iTunes Store. I bought one or two karaoke tracks, and now I am bombarded with alerts for new karaoke tracks, which makes it hard to find songs from artists that I really want.
Start by signing in to your iTunes Store account. To do so, click Account in the Quick Links section of iTunes, or click your Apple ID in the upper-right area of the iTunes Store window. Next, click Settings -> Alert Me -> Manage. You'll see a list of all of the alerts that you're signed up for.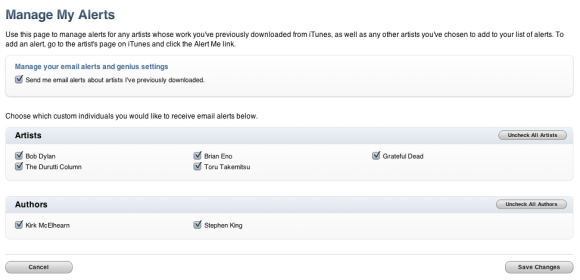 You can uncheck individual artists or uncheck them all at once. If you don't want any more email alerts, uncheck Send Me Email Alerts About Artists I've Previously Downloaded.
[Ask the iTunes Guy is a regular column in which we answer your questions on everything iTunes related. If there's something you'd like to know, send an email to the iTunes Guy for consideration.]