Adobe has announced version 11 of its Photoshop Elements and Premiere Elements desktop software for Mac and Windows. This photo and video editing duo—joined by a free helper app called the Organizer—lets users manage, edit, create, and share photos and videos in a variety of ways. Both are shipping now.
Friendly, streamlined look
The Elements programs now share a streamlined, updated interface. They default to a friendly, light gray background with a redesigned set of larger, more colorful icons than the previous version. Overall, the interface has a cleaner, more open look than in the past, with a simplified, visual way of organizing and searching for photos and videos via the Organizer's People, Places, and Events tabs. The new Elements offers fewer top level navigation choices and commands, while reorganizing and adding new features.
As always, the Elements package is targeted to craft-oriented consumers and hobbyists who want their growing collection of images and videos to look nice and to use them for projects such as cards, calendars, and photo books. The Photoshop and Premiere Elements features are designed to have an easy point of entry for novices doing simple tasks, but also seek to challenge users to tackle more complex projects.
With this new version, online sharing opportunities have changed somewhat. While Adobe is now partners with Vimeo and CEWE in Europe, not surprisingly, the Kodak gallery is gone.
Photoshop Elements 11
Upon launching Photoshop Elements 11, users are greeted with an uncluttered, non-intimidating interface that lets them choose among Quick, Guided, and Expert modes. The Quick mode offers basic editing choices such as Smart Fix, Exposure, Levels, Balance, and more, and within each, a rollover set of live previews shows the effect each choice will have on an image. A slider also offers the available choices.
Photoshop Elements, famous for its guided edits, has added four new ones to version 11. The new Vignette Effect guided edit walks you through a quicker and simpler way of adding and adjusting vignettes.
The new Tilt-Shift guided edit mimics the effect of a tilt-shift lens, which creates a blurring effect. Photoshop Elements 11 helps users achieve this popular look by blurring the top and bottom of a photo so that the subject appears smaller.
Another new guided edit creates High-Key and Low-Key effects, which is often achieved by lighting in the original scene. Photoshop Elements' High Key effect gives a photo a bright, low-contrast look; alternatively, the Low Key effect darkens a photo to add drama and contrast.
New filters in Photoshop Elements let you convert photos into illustrations in various styles, such as comic, graphic novel, and pen and ink.
In addition to the new editing modes, Adobe has also enhanced some older features, such as Refine Edge, actions, and flexible layouts for cards, scrapbook pages, calendars and other items.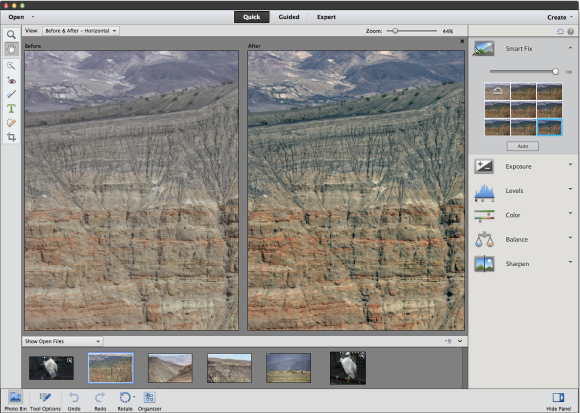 Premiere Elements 11
Premiere Elements is the Photoshop Elements analog for editing home movies. The new version provides a more intuitive editing environment, augmented by cinematic styles, special effects, and a streamlined set of editing modes.
New features also include a color adjustment tool, Hollywood movie styles, the ability to slow down or speed up action, photo-blending techniques, and the ability to share videos and slide shows on Vimeo (in addition to Facebook and YouTube).
The program offers Quick and Expert editing modes for movie creation or the addition of creative transitions, effects, and styles to footage. The InstantMovie feature automatically edits a set of clips together with coordinated music, titles, effects, and transitions from included movie themes. New customizable themes include Baby Clouds, Picture Cube, Prime Time, and Yearbook.
The FilmLooks feature lets users create distinctive visual looks for their footage via drag and drop. Some 12 new looks, such as Old Film, Hollywood Movie, and Pandora, which makes your video look like the movie Avatar, are included.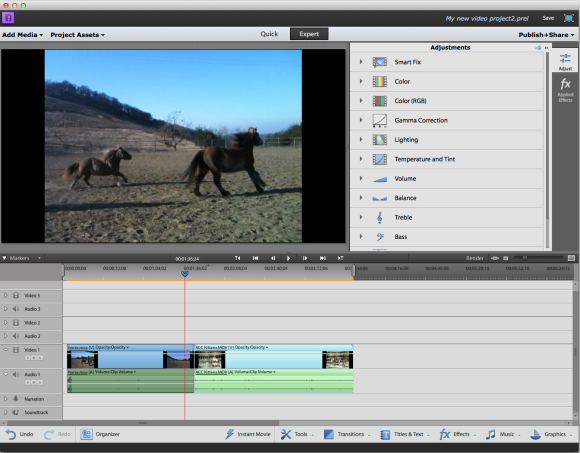 The Organizer
The Organizer is where all elements from both the image editing and video programs come together.
New Organizer views let you sort images and video according to people, places, and events. You can also apply keywords and tags, and use smart tagging to help with specific photo and video searching, as with previous versions.
The People view filters a library down to videos and photos that have a particular person in them. People can be organized into groups—family, friends, colleagues, for example. Then, you can drill down and see all of the photos and videos you've tagged for a particular person.
The Places view integrates with Google maps to facilitate organizing and searching by location. The Organizer stacks video clips and photos based on where they were taken and displays stacks related to that location on the map. Use the Map to zoom in to a location and see what videos and photos were taken there. If a photo or video does not have a geotag, you can use the Organizer to tag it.
In the Events view, a new built-in calendar lets you filter events by date.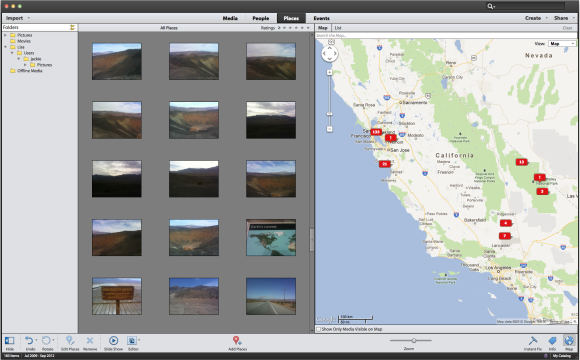 Mac and Windows differences
Despite the overall similarity between the Mac and Windows versions, there are still disparities in functionality between the platforms.
The ability to create slideshows complete with captions, pan and zoom effects, transitions, voice narration, and music works only on Windows. Similarly, the ability to send a personalized, themed photo email with captions and backgrounds, and the ability to create mini-movies by stringing together a series of still shots, are also Windows only.
System requirements and availability
Adobe Photoshop and Premiere Elements work on multi-core Intel Macs running OS 10.6 and higher. Windows users need a 1.6GHz or faster processor (single core supported) running Windows XP with Service Pack 3, Vista, Windows 7, or Windows 8.
The software is available now from Adobe's website, and will soon be available at retail outlets such as Amazon.com, B&H Photo and Video, Best Buy, Costco, New Egg, Office Depot, and Staples.
As in the past, Photoshop Elements and Premiere Elements are available separately for $100 each, with an upgrade price of $80 each. However, if you buy them as a bundle, you get both for $150, alongside the shared Organizer. Upgrade pricing for the bundle is $120.
Academic pricing for students, faculty, and staff in K-12 and beyond is available from Adobe Authorized Education Resellers and the Adobe Education Store. Information on volume licensing is available on Adobe's website.