Many changes in iOS 6 are squirreled away in the Settings app—if, like most users, you don't delve into Settings, you'll miss some great new features. Here's a look at the changes to this important-but-overlooked app, organized in the order the sections appear on the Settings screen. (Though the screenshots here show an iPhone, I describe changes for all iOS devices.)
Minor reorganization As often happens with major updates to iOS, Apple has reordered a number of top-level settings items. For example, Twitter has been into a new group with the new Facebook item, and Notes has moved lower in the Settings screen.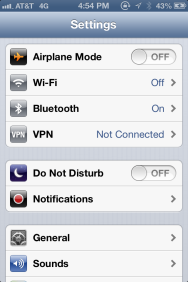 New top-level items In a welcome change for many users, Bluetooth is now a top-level item in the Setting screen, grouped with Airplane Mode and Wi-Fi, for easier access. In addition, while you'll still need to use this Bluetooth item to pair headsets, speakers, and similar accessories, apps that use particular Bluetooth devices—for example, fitness apps that connect to a Bluetooth 4.0 heart-rate monitor—can now let you pair with those devices directly from within the app, without requiring a visit to the Settings app.
Reminders is also now a top-level item, providing the same options (which items to sync, and choosing a default list) as it did within the Mail, Contacts, Calendars screen in iOS 5.
Notifications and Do Not Disturb The Notifications item is now grouped with a new Do Not Disturb setting that silences notifications and incoming phone calls—or, in the case of an iPad or iPod touch, FaceTime calls. (When Do Not Disturb is enabled, a moon icon appears in the status bar.)
Though you can manually enable Do Not Disturb mode here, a number of useful options are found in a new Do Not Disturb screen accessed within Notifications. Here you can choose specific contacts (or groups of contacts) whose calls won't be silenced, and you can enable the Repeated Calls option, which bypasses Do Not Disturb mode if the same person calls twice within three minutes. The Repeated Calls option is useful if, or example, someone is trying to reach you because of an emergency. Finally, you can schedule Do Not Disturb to turn on and off at specific times, such as on at 11:00pm and off at 7:30am.
Some users also get new settings in the Notifications screen—at the bottom, grouped under Government Alerts—for enabling or disabling AMBER Alerts and Emergency Alerts. In our testing in the San Francisco Bay Area, Sprint and Verizon users see these settings, while AT&T users do not. However, the availability of these settings also appear to depend on your location: Responses to an informal poll of Twitter users indicate that Verizon users in some parts of the country get the settings, but those in other locations do not.
Privacy Location Services has been moved inside a new Privacy screen that lets you fine-tune access to Contacts, Calendars, Reminders, Photos, Bluetooth Sharing, and your Twitter and Facebook accounts. For each type of data, you can choose which apps have access to that data. The Location Services section of Privacy also gains a couple new settings, found in its System Services screen: toggles for Genius For Apps and Wi-Fi Networking.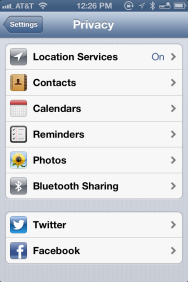 Sounds In the Sounds screen on the iPhone, the two Vibrate toggles, previous split between a Silent section and the Ringer and Alerts section, are now grouped together as Vibrate On Ring and Vibrate On Silent. You can also now choose an alert tone for new-Facebook-post notifications, and you can choose one of seven preset vibration patterns, or create a custom vibration pattern, for each type of notification; these vibration patterns are in addition to each alert's audible tone. (You can also create and assign vibration patterns for individual contacts, but that's done in the Contacts app.)
On the iPad, the Sounds item is now at the top level of the Settings app—it was previously buried in the General screen.
Brightness & Wallpaper On the iPhone and iPod touch, the previously separate Brightness and Wallpaper items have been combined into a single Brightness & Wallpaper item that includes the same options for each as before. (Brightness & Wallpaper was already a single item on the iPad in iOS 5.)
General Apple has introduced a slew of changes in the General screen. For starters, it no longer contains the Bluetooth option (which, as noted above, has been moved to its own item in the main Settings list). On the iPad, iOS 6 removes the Network item and moves the VPN section up one level—the other items under Network in iOS 5 (Wi-Fi and Personal Hotspot) have their own top-level entries.
On the iPhone, the Network item has been renamed Cellular, and new here is a group of settings that let you choose which features (iCloud Documents, iTunes, FaceTime, Passbook Updates, and Reading List) can use cellular data. Note that to allow FaceTime to use cellular data, you must have an eligible cellular plan—AT&T, for example, requires that you subscribe to one of the company's Mobile Share plans in order to use this feature.
On iPads, the Usage screen now includes information on usage and standby time since the last full charge (options that were previously available only on the iPhone).
The Auto-Lock screen has gained a Never setting on all devices, and a 15-minute setting on the iPad. On the iPhone, the Require Passcode option in the Passcode Lock screen has gained settings for 15 minutes, 1 hour, and 4 hours. (Interestingly on an iPad 2, this screen actually loses a few options.) On iPhones, there are also new options to allow Passbook access when the device is locked, and to allow you to use iOS 6's new Reply With Message feature (see Phone, below) when the phone is locked.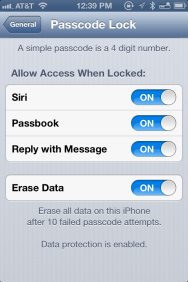 The Restrictions screen no longer includes an option to allow YouTube, since iOS 6 no longer includes the YouTube app. However, it gains such an option for the iBookstore, and there's also a new Books option under Allowed content that lets you choose whether or not to allow books with explicit sexual content. The Allow Changes options now include one for locking the phone's volume limit (previously located in Settings -> Music -> Volume Limit), and the Location item has been moved into a new Privacy section that mirrors the options in the new top-level Privacy settings; for each type of data, you can choose whether or not to allow changes, as well as decide which apps have access to that data. (You can change many of these settings in the top-level Privacy, Twitter, and Facebook screens, though you can't access those screens if restrictions on them are enabled.)
Changes in the International screen include a slew of additional languages for Siri, including several dialects of Chinese, Canadian English, Italian, Korean, and Spanish (Mexico, U.S., and Spain). There are also a couple additional keyboard options, including Canadian and Australian English, and a few new region formats.
The Shortcuts capability added in iOS 5 has been revamped in iOS 6; it now has its own sub-menu, with a more user-friendly catalog of entries that resembles the Contacts list, and it's now searchable.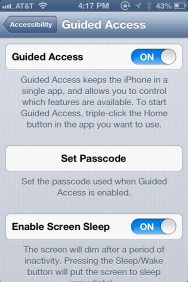 The biggest new feature in the Accessibility screen is Guided Access mode. When enabled, Guided Access keeps the iOS device in the current app and lets you control which features are available. To activate Guided Access for an app, you just triple-press the Home button; this enters a setup mode where you draw circles around each area on the screen you don't want to be accessible—for example, a Settings button. Tap Options to disable touch or the device's accelerometer (hardware buttons are always disabled when Guided Access is activated). Click Start and the app is protected. To exit Guided Access, you again triple-press the Home button and then enter your Guided Access passcode. Though intended to help those with accessibility difficulties, this feature is also useful for parents looking to limit their iOS device to a single app and to restrict access to particular features.
New in the Accessibility screen on iPhones is a Hearing Aids option that lets you connect to a compatible hearing aid; a new Hearing Aid mode improves audio quality when used with a hearing aid. On all devices, there's also an additional Rotor option (under VoiceOver) for Punctuation, and the White On Black setting is now more accurately called Invert Colors. In a small, but welcome, addition, the slider that controls the volume balance between the left and right channels now has a mark indicating the center.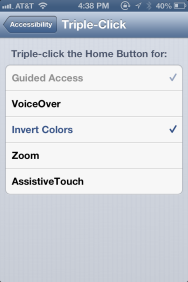 Under the Physical & Motor section in Accessibility, there's a new setting that lets you choose how quickly you need to double-press or triple-press the Home button for it to register as a single action, rather than separate presses: Default, Slow, or Slowest. And the Triple-click Home setting now allows you to choose a single action (Guided Access, VoiceOver, Invert Colors, Zoom, or Assistive Touch) to occur, or to choose multiple options that will appear in a menu when you perform a triple-press. Finally, on iPhones, the Custom Vibrations option has been removed; as noted above, you can now create custom vibration patterns in the Sounds screen.
Finally, hidden in General > About > Advertising is a new setting called Limit Ad Tracking. If you tap Learn More, at the bottom of this screen, you see Apple's own explanation of this feature: "iOS 6 introduces the Advertising Identifier, a non-permanent, non-personal, device identifier, that apps will use to give you more control over advertisers' ability to use tracking methods." If you enable the Limit Ad Tracking feature, apps cannot use this Ad ID to serve you targeted ads.
iCloud On iPhones, the iCloud settings screen now includes an option for syncing your Passbook data, and on all devices, the Photo Stream item now includes a toggle for Shared Photo Streams; if the latter is enabled, you can create photo streams to share with other people and you can subscribe to other people's shared streams.
Mail, Contacts, Calendars The biggest—and most welcome—change in the Mail, Contacts, Calendars screen is found when you tap Signature. Instead of a single text field for a signature that appears in all your messages, you can choose between All Accounts (which gives you that single field) or Per Account. The latter setting offers a separate signature field for each email account you've set up on your device. Type or paste your preferred signatures, and Mail will automatically append, to each outgoing email message, the appropriate signature for the sending account.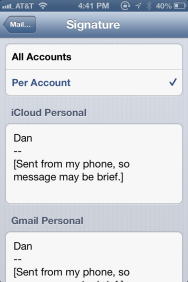 Also new here is an option to be notified about changes to shared calendars. On the other hand, the Mail, Contacts, Calendars screen loses the setting for minimum font size in Mail, as well as the section for Reminders settings; the latter has been moved to a new top-level Reminders item.
Phone The big change here is Reply With Message. This new feature lets you respond to incoming phone calls by sending, with a couple simple taps, a text message to the caller. The Reply With Message screen lets you configure up to three stock responses, such as "Can't talk right now…I'll call you back in a bit."
There's one other minor change in the Phone screen: The setting known in iOS 5 as International Assist, which automatically added the correct country prefix to international calls, is now known as Dial Assist. It performs the same function but can also add the correct local prefix.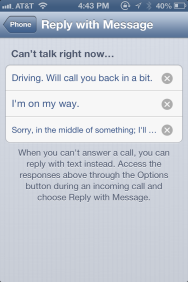 Messages The main change to the Messages screen is that on the iPhone, the iOS 5 setting labeled Caller ID is now called Start New Conversations From, which better reflects what the setting actually does.
FaceTime On the iPhone, assuming FaceTime restrictions aren't enabled, a new option in this screen lets you choose whether FaceTime can use cellular data. As mentioned above, to allow FaceTime to use cellular data, you must have an eligible cellular plan—AT&T, for example, requires that you have one of the company's Mobile Share plan to use FaceTime over a cellular connection.
Safari There's a new Safari option to use cellular data for Reading List syncing, assuming you haven't restricted this option using the Restrictions feature. In addition, under Advanced you'll find the option to enable the new Web Inspector, which lets you connect your iOS device to your computer so that you can preview—on your computer—what a website will look like when actually viewed on the iOS device. On your Mac, this feature is accessed under the Develop menu of Safari; you can enable that menu in OS X Safari's Advanced Preferences.
Maps This item is new in iOS 6, as Apple has replaced Google's Maps app with an Apple-created version that provides turn-by-turn directions, among other new features. The settings here let you choose the navigation-voice volume, the unit of measure (miles or kilometers), and the size and language of map labels.
iTunes & App Stores This item replaces iOS 5's Store entry. As in iOS 5, there are options to automatically download to your device purchases of music, apps, and books made on other devices. In addition, you can now enable iTunes Match here (as well as in the Music screen of Settings). Gone are options for automatic download of Newsstand publications, which have been moved to a new Newsstand screen in Settings.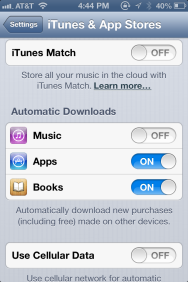 Music There are two minor changes to the Music screen. First, you can no longer lock the volume limit with a passcode here; you now lock this setting using the Restrictions options in Settings -> General (which makes more sense). Second, the EQ list includes a new option, Late Night, that tones down the bass so you won't disturb your neighbors when playing music through speakers.
Photos & Camera This item replaces iOS 5's Photos item. The only new option here is the capability to enable Shared Photo Streams (which is also available in Settings -> iCloud).
iBooks Formerly listed in the third-party-apps settings at the bottom of the Settings screen, this item is now grouped with the other media-type settings (Music, Videos, Photos, and so on). The settings in this screen are unchanged.
Newsstand In iOS 5, you enabled automatic downloads of new issues of Newsstand publications in the Store screen. There's now a dedicated Newsstand item in Settings that contains these options.
Update 9/20/12, 9:15am: An earlier draft of this article was accidentally published; the text has been replaced with the edited version. 9:45am: Added information about Government Alerts, Ad Tracking, and Late Night EQ. 10:00am: Removed mention of WiFi Plus Cellular setting, which is not yet available.