We've heard a lot about the 200-plus new features in iOS 6, but how will this upgrade affect performance? To find out, I grabbed a stack of iOS devices from the Macworld Lab and did some before-and-after testing to see whether iOS 6 performance was faster, slower, or the same as under iOS 5.1.1.
iOS 6 benchmarks: Geekbench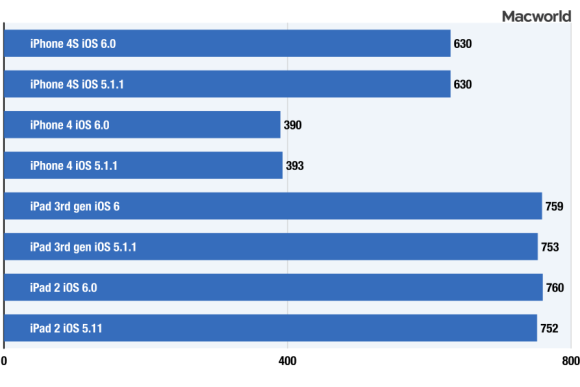 iOS 6 benchmarks: Page Load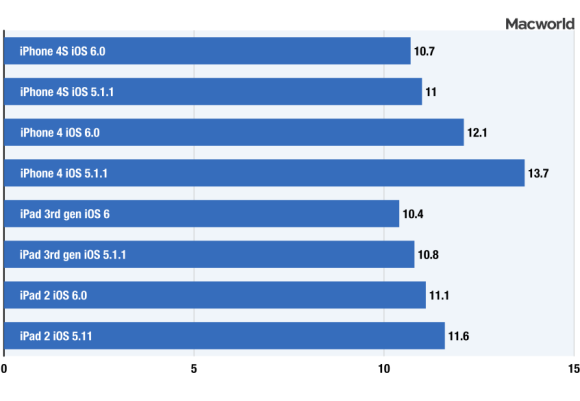 I ran a series of six tests on an iPhone 4, iPhone 4S, iPad 2, and a third-generation iPad. I found subtle performance differences between the two versions of iOS. GeekBench scores with iOS 6 were within one percent of the iOS 5.1.1 scores. Page load times were less than half a second faster using the new version of iOS.
iOS 6 benchmarks: SunSpider JavaScript Benchmark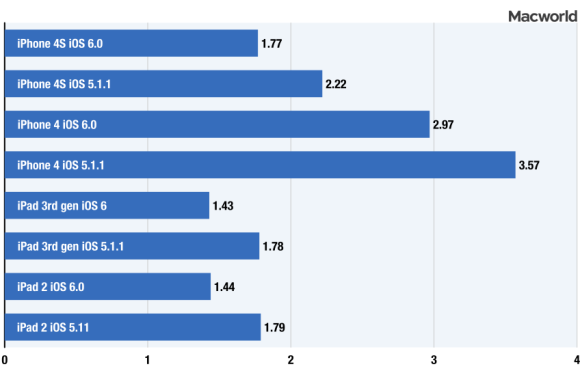 There were, however, three tests that showed larger differences. The iPhone 4S, iPad 2, and third-generation iPad were all 20 percent faster at the SunSpider 0.9.1 JavaScript benchmark when running iOS 6. The iPhone 4 was 17 percent faster on this test in iOS 6.
iOS 6 benchmarks: GLBenchmark Egypt Offscreen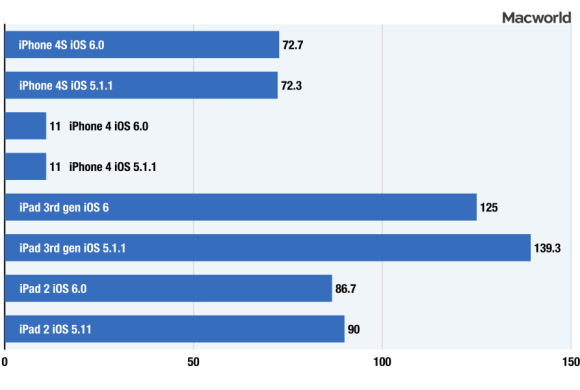 iOS 6 benchmarks: GLBenchmark Pro Offscreen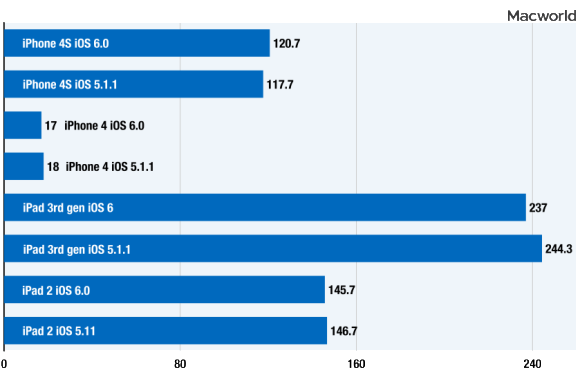 The GLBenchmark test also showed real performance differences, but the results weren't as cut and dried as the JavaScript results. The iPhone 4 displayed the same number of frames per second in the Egypt Offscreen Test, regardless of the version of the iOS. The Pro test, also run offscreen, showed iPhone 4 performance that's practically identical. The iPhone 4S was less that 1 percent faster on the Egypt test, but 2.5 percent faster on the Pro trials when running iOS 6. The iPad 2 was 4 percent faster in the Egypt test running iOS 5.1.1, but the Pro test results were nearly identical.
The third-generation iPad showed the biggest performance difference—unfortunately, it wasn't in the ideal direction. iOS 5.1.1 outperformed iOS 6 by just under 3 percent in the Pro offscreen test, the Egypt offscreen test was nearly 11 percent faster under the old OS.
iOS 6 benchmarks: WebVizBench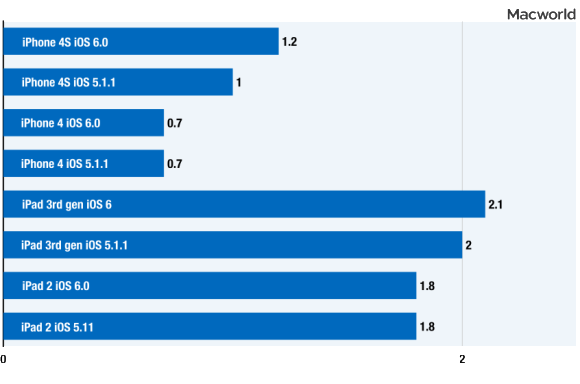 WebVizBench, an HTML 5 benchmark, showed identical performance for the iPhone 4 and iPad 2, but significant gains in performance for iOS 6 on the iPhone 4S and third-generation iPad: 20 percent and 7 percent, respectively.
While these results may sway your decision to upgrade your iOS, at least we now know that there is no significant performance downside to doing so.
Check back soon for battery life results for these devices, as well as test results for the new iPhone 5.