Apple says more than 100 million devices are already running iOS 6. If you have one (or more) of them, you likely have already explored some of the operating system's new features—including its Facebook integration.
If you provided your Facebook login details in the Settings app and then tapped the Update All Contacts button, you probably encountered an interesting—perhaps "annoying" is a better word for it—side-effect of that integration: Your iOS device imports all of your Facebook friends into the Contacts app. That means that (among other things) those friends are now among the autofill options when you're typing in addresses for friends in email. In addition, iOS 6 updates the records of existing contacts who are also Facebook friends, adding their @facebook.com email addresses to whatever other addresses you have saved for them.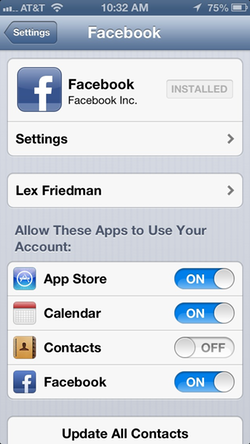 While I have about 150 contacts in the Contacts app, I have 427 friends on Facebook. And while I'm glad to find out about the activities (and occasionally surprising political views) of my former campers, high school acquaintances, and coworkers from many jobs ago when I'm logged into Facebook, I don't really need all of them cluttering up my iPhone. And there's no Un-Update All Contacts Again button.
Fortunately, there's a simple enough (if oblique) way to declutter your iOS phone book. Head back into the Settings app, scroll way down to find Facebook, and then look for the switches beneath the header Allow These Apps To Use Your Account. Turn off the Contacts' apps access. Once you do, your Facebook friends (and Facebook's updates to your existing iOS contacts) will soon go the way of Friendster.
Worth noting: If you immediately hop over to the Contacts app to confirm the settings change, you may see some unexpected results. In my case, longtime Contacts of mine with Facebook accounts briefly vanished from my Contacts list; all of their iMessages were, for a few moments, displaying with just their phone numbers and not their names. However, after a couple minutes that issue resolved itself, and my Contacts were in good shape once again.