The to-do list is a productivity necessity, but ending up with several lists of disheartening length is all too easy. Things 2.0 ( Mac App Store link) from Cultured Code aims to tame those lists, and the program isn't complicated—learning how to manage your tasks in Things won't become its own to-do item on the list.
Things features a neatly designed two-pane window for working with your to-do items. The left column lists the various groupings of items. The wider column to the right shows a one-line summary of each to-do. Clicking a line expands the item to display more details and to permit editing.
You can add to-do items to Things within the application itself, of course, but Things also offers a systemwide keyboard shortcut for quickly entering a task with minimal disruption. However, Things must be running for the shortcut to work, so you have to get in the habit of keeping the application open all the time.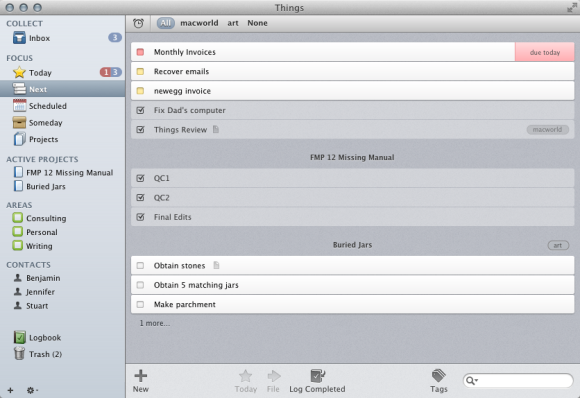 New to-dos drop into Things' inbox, where they await classification. One way to classify a to-do is to assign tags (short, descriptive words or phrases). As you begin to type a tag, Things displays any matching tags you've previously used, to encourage consistency. Press Return on your keyboard, and the tag is encapsulated in a blue bubble and assigned to the task. Another organizational tool is 'Areas of Responsibility' (usually referred to as just Areas), a set of umbrella categories for your to-dos that appear in the left column of the Things window. A third grouping method is the Project. Unlike the broadly descriptive Areas, Projects can have due dates and a completion status. Think of Projects as super to-dos: When all the items in a Project are complete, the Project itself is complete.
If you need to manage other people's tasks, Things allows you to assign items to contacts from your Address Book. You must first add contacts to Things' left sidebar; afterward you can associate Projects and to-dos with a person by dragging tasks to the contact's name.
Besides the aforementioned classification schemes, Things has a few ways to help you focus on your most relevant to-do items without getting overwhelmed by long lists. In the left column, just below the Inbox, is the Today group. As its name suggests, this group lists items that require attention on the current day. The Today group also shows past-due items and any to-dos you've set to appear earlier than their actual due date. Having something show up early can make sense—just because a task isn't due until Friday doesn't mean you can ignore it today.
Below the Today group is the Next group. This is a list of to-dos and projects that are active but don't necessarily require your immediate attention. Below the Next group is the Scheduled group, which lists incomplete to-dos that have due dates assigned. Finally, the Someday group is exactly that: tasks you hope to finish eventually but must wait for one reason or another.
Rare is the to-do list that doesn't involve errands or other tasks that don't take place at the computer, so Cultured Code offers versions of Things for the iPad and iPhone/iPod touch as well. Owners of Things on multiple devices may sign up for Things Cloud, a free service that synchronizes your to-dos. Not to be confused with Apple's iCloud, Things Cloud is a proprietary service. In my testing, two-way synchronization of Things data between my Mac and iPad was fast and effortless.
The documentation was the only disappointing part of Things. The help-system information appears to be from a previous version. It contains no mention of Things Cloud, and it instructed me to click an Apply button that is not present in this version. Cultured Code's website has more-current information, but it's puzzling that an otherwise well-conceived and well-executed product would overlook the documentation.
Bottom line
Things 2.0 excels at managing to-do lists. It offers just enough methods to group and categorize your tasks without becoming needlessly complicated. As list managers go it isn't cheap, but its organizational prowess makes it a good investment for anyone with a lot to do.