iOS 6's Maps don't currently quite have the same breadth of information as its Google-powered predecessor, if I may be permitted to indulge in a bit of understatement. But, as Apple itself pointed out, the system is in part crowdsourced—"the more people use it, the better it will get," the company told us last week.
So, instead of just bellyaching over Maps's shortcomings, how can you help improve the quality of information? Easy: Report problems to Apple as you encounter them. It only takes a little longer than composing a 140-character complaint, and it's an investment in a better Maps in the future.
There are two ways to report problems, depending on what kind of issues you encounter, so the first step is to determine is what kind of information you're correcting. You can report problems with Maps's search and directions features; in addition, you can also correct information about specific locations you find in Maps. Here's how.
Where, oh where, can my location be?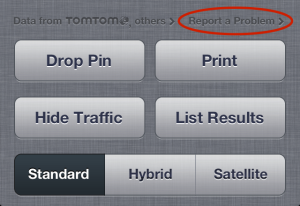 If it's the former you're after—i.e., a place you're looking for isn't showing up, search isn't showing the right results, or directions are giving you an issue—then tap on the page curl in the bottom right corner of Maps to reveal the app's options.
Nestled away in the top right corner you'll see a tiny Report a Problem link. Tap on this and you'll open up a world of options.
On the following screen, you'll be given a list of five possible issues to choose from. Choose the one that best describes your problem and tap Next; if you're not sure exactly which one you're looking for, I've broken them out below.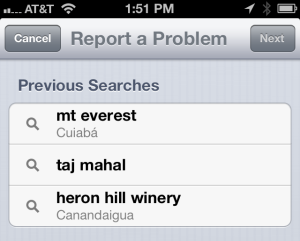 Search results are incorrect: If you made a search that didn't show what you expected—for example, as per the example in my iOS 6 review, if you search for Mount Everest and don't get the world's tallest mountain—then this might be what you're looking for. Maps will show you a list of your last three searches; select the one that gave you problems and tap Next. The next screen contains a Comments field; enter a brief description of the problem you encountered, and tap Send.
Street or other label is incorrect: If some of the text on the map doesn't accurately describe the location or contains an error—say a typo identifying your street as a "road"—this is the option to choose. You'll be presented with a map and asked to tap the misidentified feature; do so, and tap Next to get a text field where you can propose a correction and send it to Apple.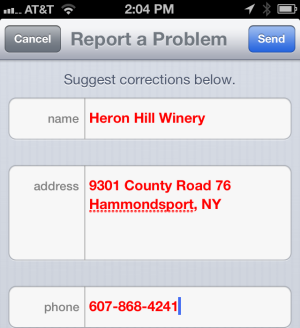 Location is missing: You know that place exists, but Maps just isn't showing it. Choose this option and you'll be asked to place a pin on the map where the missing feature is; then tap Next. (Apple could make this a tad easier by letting you specify a location, or even your current location). You'll be asked to enter the information on the location, including name, address, phone number, hours, website, and category (Apple provides its own built-in category options).
Problem with directions: Maps told you to turn right instead of left? Here's where you can save future drivers the same hassle. Pick this option and tap Next; Apple will present you with the last three direction searches you made. Tap Next again, and you'll get the Comments field in which you can explain your mishap.
My problem isn't listed: Should your error not be covered under any of the other four options you can always choose this. You'll simply get a Comments field to fill out and send to Apple; it's probably best to make sure you give a detailed accounting of the issue.
It's just business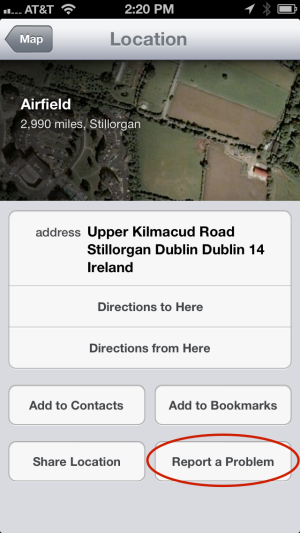 In addition to fixing issues with Maps's search and direction capabilities, you can also report problems with specific points of interest. To do so, tap on any location, and then tap the blue arrow next to its name; that will bring up the relevant information card. Scroll down to the bottom of the card and tap the Report a Problem button.
You'll be presented with four different options; choose the one most appropriate to the issue you encountered and tap Next.
Information is incorrect: If, say, your local farm is misclassified as an airport, this is probably the best bet. You'll be given a form with name, address, phone, hours, URL, and category—much the same as the "missing location" option from above. Tap on any field and you can put in your own suggestion for what would fix the issue. In this case, changing the category from Other Airports to perhaps Parks might help. Then tap Send.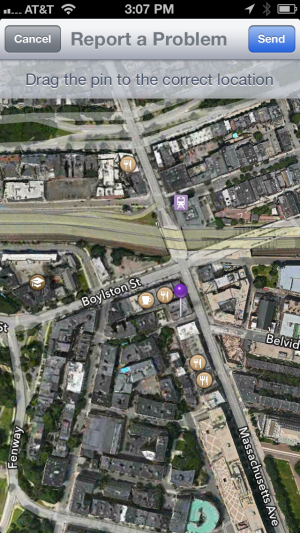 Pin is at incorrect location: As one of my friends discovered, Maps sometimes gets confused about exactly where things are. Case in point: Massachusetts Ave. stretches from Cambridge, MA across the Charles River to Boston, MA—but though the street name stays the same, the numbering changes. So a particular restaurant that appeared to be on one side of the river was, in fact, on the other. This is exactly what this option is for: As with the missing location issue from above, you'll be asked to place a pin at the point's correct location and hit send. (It's probably handy to use another mapping service to make sure you're dropping the pin in the correct place.)
Place does not exist: You're craving a delicious sandwich, so you follow Maps to the location of a great sandwich shop … only to find it doesn't exist. This option actually yields two sub-options—"Location has closed" or "Pin is at incorrect location"—along with a Comments field. Pick the first and you'll just enter the details and tap Send; choose the second and you'll get the same drop-the-pin interface as the option above.
My problem isn't listed: And, of course, the catch-all. Some sort of issue that's not quite right? This is the place to put it. Enter your comments in the field and tap Send.
A little better all the time (it can't get no worse)
We don't know exactly how long it takes Apple to act on this information, but I believe every bit is being taken into account. It took years for Google to reach maturity with its own mapping offering, and there are still errors and incomplete information in its service. Apple's no doubt attempting to improve its own data, but there's a lot of ground to cover, and the best way to help fix problems you find is to report them.