It didn't take long for iOS accessory makers to react to the launch of the iPhone 5. Sure, the new phone is a little longer than its predecessors—and yes, it has that new Lightning connector that's incompatible with every previous generation of accessories—but there's still gold in them thar accessory hills. This week's roundup features iPhone 5 gear, things for your older iPhone, and some of the cutest accessories we've ever seen.
Arkon: The $40 iPad Table Stand and the $90 Extending Tablet Floor Stand are essentially the same product in small and big sizes, respectively. Each is an adjustable, aluminum-pole tablet stand that lets iPad owners use their tablet with hands-free ease. The former can sit on a desktop or countertop for easy viewing. The latter can be placed on the floor near a couch or chair during relaxation time, or can be used as a makeshift iPad podium.
Bose: The $350 SoundLink Air speaker system is Bose's first product featuring Apple's AirPlay technology, letting you stream and control music wirelessly from your iOS device or Mac. The SoundLink Air uses a rechargeable battery, so you can take it to the patio or on a picnic to provide portable tunes wherever you go.
Bowers & Wilkins: This high-end-audio vendor has come up with two new AirPlay-compatible speaker systems. The $500 A5 is a bookshelf-sized unit that's compact enough for even the smallest rooms but puts out big, lush sound. The $800 A7 features a six-inch Kevlar subwoofer to provide deep bass. Both systems stream music wirelessly from your iOS device or Mac, and both will be available for shipping in October.
Carbon Audio: The $99 Zooka is a wireless, slide-on speaker bar for the iPad. It streams music wirelessly from your iOS device using a Bluetooth connection, and the bar includes a pair of speakers and a microphone, so you can use the Zooka as a speaker and kickstand for your tablet, as well as for hands-free phone and video chats via FaceTime, Skype, or similar services. The Zooka comes in nine colors.
Dr. Bott: This company's recent press release touts more than 350 accessories for the new iPhone 5. Space prohibits us from listing all of them here, of course, but we'll note that typical products include a $12 anti-glare film to place over your new phone's screen, as well as a slew of cases. The full list of "made for iPhone 5" products can be found on the company's website; Dr. Bott's full list of other iPhone-compatible products is also available.
Electric Friends: If you're in need of accessories to make your iPhone or iPod touch un-bear-ably adorable (see what we did there?), you should check out the line of $60 Electric Friends—docking stations that recharge your device while offering two 5-watt speakers to turn your phone into a radio alarm clock. There are four friends available: Chew Chew the dog; Ki Ki the cat, Sing Sing the panda, and Kwack Kwack the duck. It's a ruff world, isn't it?
Gizmon: Sometimes, everything old is new again. That's why the folks at Gizmon want to remind you that their $25 clip-on lenses—which are compatible with every iOS device featuring a camera—are also compatible with the iPhone 5. There are five different styles of lenses, including a new "center focus filter" that blurs the edges of your photo, and a "cross screen filter" that adds sparkle.
Hand Stylus: The $30 Hand Stylus features small tips for writing or creating finely detailed artwork on your iPad or iPhone. Those tips are tiny—and retractable—but replaceable: a six-pack of replacement tips is $10. The stylus comes in a half-dozen different colors to inspire your creativity.
Izon: Concerned about security? Want to peek in on the baby? Izon's $129 Wi-Fi Video Monitor lets you set up a small camera in the area of concern and then wirelessly stream video directly to your iPhone or iPad using the free Izon app. The company says that setup is fast and easy; once it's complete, you'll have real-time video surveillance available to you—as well as noise and motion alerts.
Izzi Gadgets: This camera-accessory maker said its $130 Solo and $230 Orbit lens cases are now available for pre-order in iPhone 5 versions. The Orbit has a trio of lenses—fisheye, wide-angle, and telephoto—that can rotate and lock into place to create better photos using your phone's camera; the Solo is similar, but features just a fisheye lens. The company expects to ship the products in November.
Lenmar: The $70 Lenmar iPhone 5 Battery Case comes in three colors: red, black, and white. Complete the set and you can look like you're a member of the White Stripes, but the case doesn't just have rock-star appeal—it promises to double your talking and web-surfing time on the iPhone 5 thanks to a built-in rechargeable battery. The cases will ship in December.
Onkyo: No you won't be able to dock your new iPhone 5 in the $199 DS-A5 docking station—not without an adapter at least. (Any device with Apple's older 30-pin connector will still be able to dock.) But that's glass half-empty thinking—and as Onkyo points out, you can still use the docking station's AirPlay technology to wirelessly stream music from your iPhone 5 to your otherwise-wired-in speaker system. The also device comes with a remote control; it will be available for shipping in October.
Paradigm: The new Aera AirPlay Speaker System lets you play music wirelessly from your iOS devices (or Mac) through the system's 30-watt speakers. (The Aera also offers a now-old-fashioned 30-pin dock cradle.) The system can also play music directly from Internet-based music services such as Spotify and Pandora. There's no word on pricing for the system; the speakers are expected to be available later this fall.
Satechi: The $10 Compact USB Surge Protector lets you power up your iOS device—as well as one other device using the standard AC outlet—directly from a wall socket, while offering protection against electrical accidents.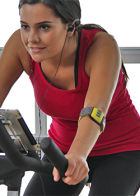 Scosche: The $100 Rhythm armband will help you get in shape by monitoring your vital statistics during a workout. It transmits that data to your iPhone, where the data is processed via a free app that can help you determine your most-efficient workout routine—and which can also be set to play an inspirational "power song" when your workout is most in need of a jolt. The app is available now; the Rhythm armband should be available in retail stores by the holiday season.
Wacom: The $35 Bamboo Stylus pocket is designed to work in conjunction with the free Bamboo Paper iPad app to take notes or make drawings. The stylus is a short, compact version of a traditional style—it can telescope to full size for that pen-like feeling. The stylus's "leash" can plug into the headphone jack of your iOS device for easy access.
iPad (third generation) family