Just under a year ago, I wrote about how to create shared Reminders lists with iCloud. Back then, I explained that while you could create reminders and lists on your iPhone or iPad, the only way to create shared lists—which you and others could access together, making them perfect for collaborative items like grocery shopping lists—was via the iCloud website. Now there's a second way to do it: via the Reminders app on your Mac. (Sadly, there is still no option for creating shared Reminder lists from an iOS device.)
To do it, you need to be running Mountain Lion version 10.8.2 or later. And you'll need to make sure you turn on Calendars & Reminders syncing in System Preferences -> iCloud.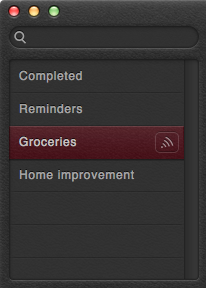 In the Reminders Mac app, identify the list you want to share. Then move your mouse over the list's name in the left sidebar. Click on the broadcast/sharing icon that appears to the right of your list's name, and then fill out the field that appears with the name or email address of the person with whom you'd like to share the list in question.
Your contact will receive an email from Apple asking them whether they'd like to accept your invitation, including a warning that by doing so, they'll reveal their Apple ID to you. Once your contact accepts the invitation, you can both add reminders to your shared list from anywhere: Macs, iOS devices, or the Web. But you can only create those shared lists on via iCloud or, now, with the Reminders Mac app.