Reader Lee Westland is confounded by iOS 6's Music app. She writes:
I've downloaded several albums-worth of music to my iPhone from iTunes Match. I'm running short of storage and would like to delete some of that music to make room for an app I want to download. I don't see a way to do that. What's the trick?
The trick involves understanding how the Music app and iTunes Match interact. If you've switched on iTunes Match on your iOS device (Settings -> Music -> iTunes Match On), you can't manually delete tracks stored on your device.
I see the results of your sputtering all over the Internet, so before it gets any sputterier, let me finish. Although you can't manually delete tracks with iTunes Match on, the Music app will automatically delete tracks when you need more space—when downloading a new app, for example. It does this by deleting the oldest, least-played tracks.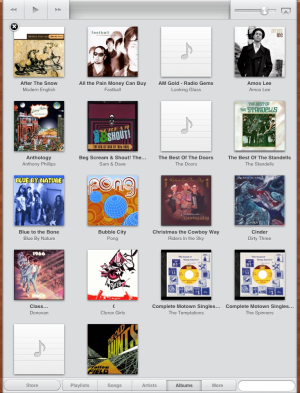 If you want manual control over deleting tracks, you can have it, but it requires more steps than you may think necessary. Travel back to Settings -> Music, and turn off iTunes Match. Return to the Music app, and wait for your iTunes Match content to disappear.
Now choose a view where you can see a list of tracks, and swipe to the right on a track that you wish to remove. A red Delete button will appear. Tap it and the track is gone.
You can also delete multiple tracks simultaneously. To do that, choose Playlists, Artists, or Albums, and tap and hold the item (playlist, artist's catalog, or album) that you want to delete. An X will appear in the top left corner of the items. Tap the X, and that item and its contents will be deleted.
Clumsy and confusing? You bet. My hope is that in an iOS 6 update Apple will enable users to delete locally stored music without having to go through the rigmarole of switching off iTunes Match.