Verizon iPhone 5 customers may have noticed an issue wherein their phones gobbled up extra cellular data when they were theoretically connected to Wi-Fi networks. Those customers now have two bits of good news: There's a special software update that fixes the problem, and they won't be responsible for unexpected charges related to unintended network overages related to the issue that spurred the carrier update in the first place.
Apple late Sunday released Carrier Settings Update 13.1, which the company says fixes a problem where the Verizon iPhone 5 could "use Verizon cellular data while the phone is connected to a Wi-Fi network."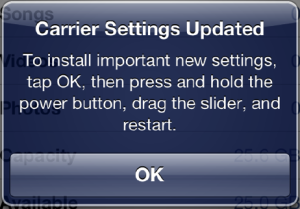 To install the update, launch Settings, tap on General, and then choose About. Wait for an alert box like the one pictured at right to appear, and then follow its instructions: First, tap OK; then hold down the Sleep/Wake button and slide to power off when prompted. Finally, after your iPhone turns off completely, power it back up again.
You can verify that you've successfully installed the Verizon carrier update by going back into Settings -> General -> About and confirming that the Carrier item lists "Verizon 13.1."
Torod Neptune, Verizon's vice president of corporate communications, told Macworld via email that "Verizon Wireless customers will not be charged for any unwarranted cellular data usage." It's unclear whether the original issue for Verizon customers was the fault of Apple or Verizon, but customers needn't be too concerned either way, given the existence of the update, and the indication that they won't be financially responsible for any overages.