This week's roundup of iOS accessories offers new-school music creation, old-school telephone handsets, and listening solutions galore.
Algoriddim: Where it's at? You got two turntables and an iPad dock…with the $700 iDJ Pro, which doesn't require any vinyl in order to create one of the better iOS-based clubbing experiences around. (Check out this cool video if you doubt the claim. Actually, go watch it anyway, because it's cool.) It works in combination with Algoriddim's Djay for iPad app, letting you incorporate the tablet's touchscreen into the music-making process, tapping your MP3 library and offering a range of options to make beats, adjust for pitch, and keep people dancing all night long.

Belkin: Slowly but surely, accessory makers are catching up with the Lightning-connector technology on the iPhone 5 and the latest iPad and iPod touch models. The $30 Car Charger with Lightning connector from Belkin, for example, ensures that you can finally make a trip with your phone without worrying about losing power. Belkin's new $30 Charge + Sync Dock also works with the new iPhone. Both devices should be available in mid-November.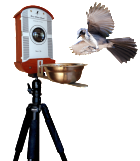 Bird Photo Booth: We don't typically include in the roundup products that are still in the Kickstarter stage, because who knows if they'll ever come to fruition? But we'll make an exception for the Bird Photo Booth, a device designed to let you capture amazing bird-watching photos using your iPhone's camera. First, you place your phone in the device's housing and stick that housing on top of a tripod. Then you set out food. When the birds arrive to snack, you can remotely photograph them. (See this video for a cool demonstration.) You'll have to pledge $149 or more to make sure you get your own Bird Photo Booth if and when it starts production.
Digital Innovations: Remember that plastic coin purse your grandpa used to carry around, back in the 1970s? The $10 Nest is basically the same thing, only to keep your earbuds stored.
Griffin Technology: Love your old speakers but want to use them wirelessly over AirPlay? The $100 Twenty Airplay Digital Audio Amplifier is finally shipping. The Twenty is a digital amplifier that works with your AirPort express to connect your new tech to your beloved old speakers, letting you play music from AirPlay-enabled apps such Spotify, Pandora, Rdio and more, as well as from iTunes on your Mac. Older AirPort Express models plug right into the Twenty, getting power and sending digital audio directly; the latest AirPort Express models use the included digital-audio cable.

JBL: The $199 SoundFly Air delivers 20 watts of wireless music power on the go. The portable speaker is AirPlay-enabled and weighs less than a pound, but JBL says it delivers "a full spectrum of sound." Perhaps most interesting is that it plugs directly into an AC wall outlet.
Macally: This vendor has introduced a slew of cases that we'll cover in our weekly case roundup, but accompanying those accessories are a wide range of stylus pens for use on any of your iOS touchscreens.
RHA: This British audio company has announced two new earphones, to be sold in Apple Stores across North America: The $50 MA450i is a set of canalbuds with a gold-plated headphone jack and a variety of eartips to let you select the most comfortable pair, while the $60 SA950i uses an on-ear design. Both models come with an in-line remote/mic for controlling music and taking calls, and both will be available for purchase by the end of the month.
Swissvoice: The $150 BHO1i is a Bluetooth-enabled docking station for your iPhone that includes an old-fashioned handset for talking and listening during phone calls. (Press materials don't specify, but it appears the charging station is built for iPhones with Apple's older 30-pin dock connector.) Alternatively, the $40 CH01foregoes Bluetooth by plugging directly into your iPhone's headphone jack, erasing compatibility concerns and letting you get an old-school handset experience in a more-mobile (and less-expensive) manner.
Unmonday: The $499 Unmonday 4.3L is an AirPlay-enabled ceramic speaker that plays tunes wirelessly from your iOS device or Mac. It includes an embedded motion sensor, allowing the speaker to determine how you've arranged it and select the optimal Dolby Surround mode for the best possible sound. The speaker offers 10 hours of battery life before needing a charge, and it comes with a leather carrying case.
USBFever: Do you really want to mount your iPhone to some other, larger, non-iOS device? Say, a bicycle? Or maybe your car's windshield? How about—and we're just spitballin' here—your car's air conditioning vent? No, no, no: You're a Harley Davidson man, we can tell. You want to mount your iPhone to your hawg's handlebars. Thank goodness USBFever is around to keep you covered.
Withings: This company is excellent at devising tools that help your iPhone make you feel fat. The latest is the $130 WS-30 wireless scale an updated version of its original, and quite cool, Wi-Fi scale. The scale relays your weight and body-mass index to your Withings account, and a free app on your phone lets you track your fitness—or lack thereoff—over time. You can even share that info via Facebook or Twitter, but for the love of all that is holy, why would you?