Whether you scored an iPhone 5 on launch day or are eagerly awaiting its arrival from your local postman, you can learn about your new device with Macworld's iPhone 5 Starter Guide—now available for download.
Inside this book, we cover all the basics you'll need to know about the iPhone 5, starting with details and diagrams of the changes to the phone's exterior—after all, the iPhone 5 is the first of Apple's iOS devices to sport a 4-inch screen, a new Lightning connector, and new Earpods headphones.
Once you're familiar with the iPhone 5's exterior, you can read a primer for activating your device and getting started with Apple's mobile operating system, iOS. We provide an overview of iOS 6's various Multi-Touch gestures, along with the basics of the system: Curious how to best use Spotlight, or how you might group apps into a folder? We explain all that and more.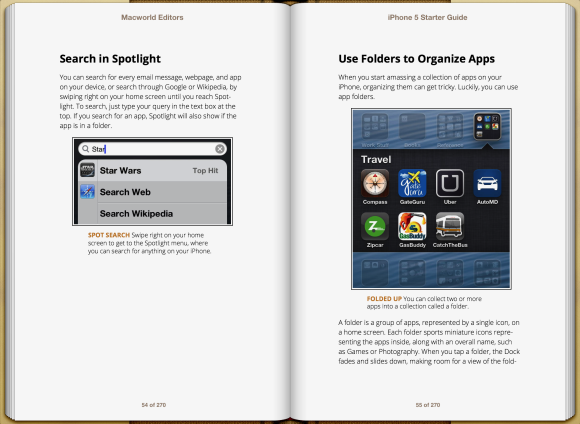 And if iOS basics aren't enough to hook you, this book goes into detail about every option in the Settings app, along with information about the iPhone 5's built-in apps and Apple's free iCloud service. We explain how to download apps from the App Store, and provide Macworld's list of the top ten iPhone apps every user should own. Finally, we cover the various types of accessories for your phone—including information about Apple's Lightning connector cable and the best cases for your device.
To read our iPhone 5 Starter Guide right away on the device of your choice, you can purchase it now from the iBookstore, Kindle Store, or Nook Store, or as a PDF, for $3.99. Or for $4.99, you can purchase our ePub/MOBI/PDF bundle.
Want to take a peek at the book before you purchase anything? You're welcome to check out a free sample from the iBookstore.
Haven't taken the plunge and purchased a new iPhone quite yet? If you have a device that runs iOS 6, we also recently published our iOS 6 Upgrade Guide, which not only explains how to upgrade to iOS 6, but offers a thorough explanation of every new feature—big or small—found in the new operating system.
If you prefer Mac-related Superguide books, we publish plenty of those, too: We recently released Total Mountain Lion, The Mountain Lion Installation Guide, and Mac Gems.