Good news for Dora the Explorer and other map fans: Google Maps now, for the first time, offers Street View when you access the service from Safari on an iOS device.
iOS users were long accustomed to having easy access to Google's Street View, thanks to the fact that it was available within the native Maps app since late 2008. As you may have heard, however, the Maps app in iOS 6 sheds its former Google-reliance; it's instead powered directly by Apple's own mapping data, which the company assembled from a variety of sources. Said mapping data isn't without its flaws, and Apple has suggested that you keep using it more so that you can report problems, which Apple in turn can fix. And CEO Tim Cook published an apology for the app's occasional flaws and frustrations.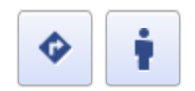 Cook—along with Macworld—suggested that users stymied by missing features (or landmarks) in the Maps app in iOS 6 turn to providers like Google instead. The Google Maps mobile site works reasonably well on the iPhone. But until this week, that mobile app lacked access to Street View, which shows photographs for many street addresses around the world. Now, you simply tap the Street View icon—a blue person on a gray background—to launch Street View for the address you're looking at, and the website opens a new mobile browser tab with the photograph you're after. As you'd expect, you can swipe around the Street View with your finger, and it works in both portrait and landscape modes. Street View looks particularly good if you access iOS 6's new full-screen Safari mode in landscape.
iOS 6's Maps include a feature called Flyover, which offers pseudo-3D overhead views of major cities. Apple won't be able to offer a service that rivals Google's Street View unless it decides to send out its own fleet of cars to photograph the world's roads.
Google Maps's website is maps.google.com. The company hasn't yet released a standalone Maps app for iOS of its own, though The New York Times reports that one is in the works.