This week's roundup of iOS apps is rocking it old-school. Old baseball, old music, old presidents, and more.
Already this week, we've brought you news of how Starbucks now allows iPhone users to store gift cards in their Passbook; we've told you how Google Maps Street View is now available in iOS Safari browsers; we've shown you Camera Awesome's, well, awesome, new iPad interface; and we've brought you roundups of the best App.net clients and " second-screen" apps.
Here are other new and updated apps that caught our eye this week: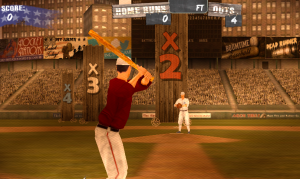 Boomtown Baseball/MLB.com: It's time for the baseball playoffs! If you're the kind of person who loves nothing better than to watch or listen to millionaires spend several hours playing a child's game, then you probably already have the $4 MLB.com At Bat app for iPhone and iPad; but if you're a casual fan who is just now paying attention, you'll be glad to know the app has been updated with all sorts of news, stats, and video features focused on the postseason. If, you're a lifelong Kansas City Royals fan, perhaps you can content yourself with the free Boomtime Baseball game for iPhone and iPad, in which you can play as a barnstorming 1920s player named "Herman George." It may be the closest you ever come to playing baseball in October.
Blue Note by Groovebug: If you're a jazz-loving iPad owner, the Blue Note by Groovebug app might be essential. For a $2-a-month subscription fee, you have access to more than 1,000 songs from the legendary jazz label's catalogue—including some entire albums from great musicians like Wayne Shorter, as well as marvelously crafted playlists created by Blue Note afficionados. Even if you don't want to shell out the subscription dough, there's still a library of great material for jazz fans here, including musician bios, liner notes, photo galleries, historic newspaper articles, and more. We won't lie: This app has us jazzed.
Disney American Presidents: So far in the roundup, we've had an old-school baseball game and an app featuring old-school musicians. Now for the old-school politicians: The $4 Disney American Presidents app for iPad was developed in conjunction with a former producer for The Daily Show, and carries the same sensibility of being both informative and entertaining. Each president is profiled, with interactive timelines that feature key events during their administrations. The app offers two hours of video history, featuring presidential advisors and nemeses like Sam Donaldson, Paul Begala, and more. The app is AirPlay enabled, and while it features its goofy moments—what's that video of George W. Bush and George Washington in a bathtub together about, anyway?—Disney appears to hope teachers will put it to use in the classroom.
Givit: Recording video on your iPhone is pretty easy; effectively editing that video, less so. The free Givit app lets you do both, and offers a few nifty features along the way: While you're recording a live event, you tap the screen to highlight critical moments, making it easier to find important footage when you're editing later. You can then splice clips together, add transitions and effects, layer in music, and either share the final product to YouTube or Facebook, or save it to Givit's cloud. Now everybody can be a movie director, armed with no more equipment than what fits in your pocket.
Office Drop: Last we checked, there were exactly eleventy kajillion cloud-based storage services out there. It's hard for any one of them to stand out from the rest. But Office Drop is doing its darndest with the latest update to its free app for iPhone and iPad: Users can now do a voice search for documents containing keywords and phrases—just speak it into the microphone, and the app will turn up the files containing those words. Other improvements to the app include the ability to share documents on social networks like Facebook, Twitter, and LinkedIn. And Office Drop promises that integration with the new Passbook app in iOS is coming soon.
Tongr/Flashcard Elite: Learning new languages is, for most of us, very difficult. Two new apps promise to make it easier—one by connecting you to language speakers, the other via memory exercises. Tongr is a free iPhone app that acts as a sort of combination Facebook and Craigslist, letting users connect with other nearby foreign-language speakers to practice and listen; a $1 "premium account" offers users live-chatting capability, as well as options to block other users who don't always act in the spirit of education. The Flashcard Elite app for iPhone and iPad lets users download flashcards from Quizlet.com—including language-learning exercises—to encourage learning through brute-force memorization. Yes, your iPhone is making you smarter.
Other apps of note: YouMail has been updated with new audio features, including one that lets users record notes for themselves … Netflix's iOS app now has a "Just For Kids" section … the New York Times is now available as an iPad-only HTML5 app; it's still subscription-only.