Our increasingly wireless lives are still dependent on physical connections. And that means cables—lots of cables. As the editor who does most of Macworld's accessory coverage, my office is overrun with cables, connectors, and chargers. Few warrant a full review or an article of their own, but that doesn't mean they should go unnoticed. Whether you're looking for worthy candidates for your travel bag or you just want to clean up your desk, here are some of the best accessories I've come across recently for connecting, charging, and more.
Compact cable kits
Short cables are lightweight, take up less space in a bag, and are less likely to tangle. Thankfully, it's no longer necessary to hunt down short versions of essential cables on your own, as a number of companies sell handy kits.
Micro, mini, 30: I previously covered Griffin Technology's $25 USB Mini Cable Kit, which offers three short (3.5-inch) USB cables in one package. Incase's $25 USB Mini Cable Kit contains 4-inch versions—the length includes the connectors—of the same three cables: USB-to-30-pin (dock connector) for iPads and pre-2012 iPhones and iPods; USB-to-Micro-USB; and USB-to-Mini-USB. The actual cable sections are thinner than those of Griffin's, making Incase's cables more flexible and even lighter. The kit also comes with a convenient nylon carrying pouch. You can choose either the standard kit, which consists of black, white, and gray cables (for 30-pin, Micro-USB, and Mini-USB, respectively), or the brighter fluorescent kit with easy-to-spot green, blue, and orange versions.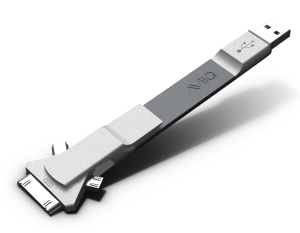 Aviiq options: Another alternative is to choose one of Aviiq's assorted $30 cable kits, which each include a pair of the company's Ready Clip USB Mini Cables. Each Ready Clip cable is roughly 5.5 inches long, with a wide, flat body and a built-in clip for attaching the cable to a pocket or pouch in your bag. The Ready Clips are a bit bulkier and considerably stiffer than even the Griffin offerings, but they also feel sturdier, and the built-in clip is handy. Aviiq sells six different two-cable kits, each with a different combination of USB-to-30-pin (dock connector), USB-to-Micro-USB, and USB-to-Mini-USB cables.
Yet another interesting option, though one that I haven't yet had a chance to test, is Aviiq's new $30 Quick Change Universal Dock Adapter. This model is similar in size and design to the Ready Clip cables, but it combines all three connectors in a single cable with a standard USB plug on one end and 30-pin, Micro-USB, and Mini-USB plugs at the other. You just rotate the end of the cable to expose the desired connector.
Display and video adapters
In the computing world, few things are worse than standing nervously at a podium preparing to give a presentation and then realizing you don't have the right adapter for your laptop. Recent MacBooks use a Mini DisplayPort connection for video output, but few schools, businesses, and conference centers have Mini DisplayPort cables on hand.
That makes a Mini DisplayPort adapter—or two!—an essential accessory for most travel bags. To be sure you'll be able to connect, it's best to have not only a VGA version (since that's still the most-common projector connection, in my experience) but also a DVI adapter, just in case. You may even want to carry an HDMI adapter to connect your laptop to newer projectors or to a flat-panel TV.
The usefulness of these adapters isn't limited to laptops, either: Many of us have a Mac mini or some other Mac we want to connect to a TV or projector.
Monoprice=lower price: Apple sells a $29 Mini DisplayPort to DVI Adapter and a $19 Mini DVI to VGA Adapter (the HDMI version is currently MIA), but as with many things cable-related, Monoprice.com offers alternatives that work just as well for a fraction of the cost. For $7, you can get Monoprice's Mini DisplayPort/Thunderbolt to DVI Adapter, which, in addition to working with every display I've tested it on, also uses a DVI-I connector rather than the DVI-D connector of the Apple-branded adapter. Many DVI cables you'll encounter out in the world are DVI-I, which has four extra pins. The Monoprice adapter can accommodate those pins, while the Apple adapter can't.
Monoprice also sells a $13 Mini DisplayPort/Thunderbolt to VGA Adapter and a $7 Mini DisplayPort/Thunderbolt to HDMI Adapter with Audio Support for connecting to displays, projectors, and TVs that use VGA and HDMI connections, respectively. Perhaps my favorite, however, is the $14 Mini DisplayPort/Thunderbolt to HDMI, DVI & DisplayPort Adapter, which, though a bit bulkier than Monoprice's single-purpose adapters, lets you connect to HDMI, DVI, and full-size DisplayPort displays.
If you have a dual-link-DVI display, you might consider Monoprice's $69 Mini DisplayPort/Thunderbolt + USB to Dual-Link DVI Adapter, which is $30 less than Apple's version. However, I haven't tested that one.
Power strips and blocks
Chances are, you have more than one device that charges through a USB cable. Instead of clogging your wall outlets with bulky USB chargers, you can add a compact charging station that offers both standard outlets and USB-power ports.
Wall power: Targus's $30 Plug-N-Power Charging Station with USB Charging Ports plugs into a standard two-outlet wall plate, covering it completely, and has three AC outlets and two USB-charging ports. The USB ports each supply 2.1 amperes of power for charging iPads, and the unit offers 540 joules of surge protection. If your wall outlet has a center-screw plate, you can attach the Plug-N-Power with a screw for a more-secure installation.
One drawback to the Plug-N-Power is that a bright-green LED bar lights up across the top whenever the unit is receiving power; the light draws attention to the charging station, which is already somewhat bulky. Also, the Plug-N-Power isn't designed for use with the ground-fault circuit interrupter (GFCI) outlets you'll often find in bathrooms and kitchens.
Portable power strips: Macally offers a similar but more-portable product in the $25 3-Outlet Power Strip with USB Charger. A little less than half the overall size of the Targus product, and weighing just 4.8 ounces, Macally's version plugs into a single wall outlet and sports three AC outlets—one on the front, one on the left, and one on the right—making it easier to connect bulky power adapters without covering other outlets. The USB-charging ports each provide 1.5A of power; they can charge an iPad, but they do so more slowly than the Targus model. The prongs fold into the body of the charger for travel. Macally says the 3-Outlet Power Strip offers surge protection, but doesn't list the protection rating.
For road warriors who need a USB hub and power, Macally sells the $40 Portable Power Strip with USB 2.0 Hub and Charger. At 5.5 inches long, 2 inches wide, and 1.6 inches thick, this 9.5-ounce power strip is a bit bulkier than the Macally product above, but it boasts two power outlets (alas, two-prong versions), a 2.1A USB-power port for charging an iPad or other tablet, and a four-port powered USB hub. (One of the ports on the hub offers 1A of power for charging an iPhone or other smartphone.) You connect the USB hub to your computer using the built-in, 10-inch USB cable, which slips into a groove in the body of the Power Strip when not in use. The Power Strip comes with a 6-foot power cable, and also offers surge protection via a built-in "power switch with protection circuit breaker"; but as with the 3-Outlet Power Strip, Macally doesn't indicate the protection rating. (The product was originally available in white; the current model, available soon, is black.)
Looking for a permanent fix for the charging challenges in your home or office? Several vendors sell replacement outlets with built-in USB-power ports. We'll have reviews of some of these products later this fall.
Accessories for your accessories
Yes, you can even find accessories for your accessories—or at least for your iPhone and iPad chargers. Most aim to control cable clutter and give you a place to stick your devices during charging.
Go fish: When traveling, many people charge their iPhones and iPads through their laptop's USB ports just so they don't have to deal with packing yet another charger. For those times when the laptop doesn't come along, consider Nice By Design's $16 CableKeeps. Each CableKeep looks like a fish that hosts your iPhone or iPad charger in its gaping mouth; the fish's cleverly designed tail provides a place for you to wrap your USB-charging cable (30-pin or Lightning), with notches to secure the end of the cable. The tail also serves as a convenient stand for an iPhone or iPad during charging.
The CableKeeps Goldie fits Apple's iPhone/iPod charger, the Nibbles accommodates the iPad charger with the standard two-prong plug, and the Gulp fits the iPad charger with Apple's international adapter. Each model is available in five colors: red, orange, green, light blue, or dark blue.
Apple pi: If you like the idea of a built-in charging stand, take a look at the $9 Pi Mount, which snaps onto your iPhone's USB charger—thanks to pi-inspired legs—and provides a convenient cradle to hold your iPhone or iPod, even in a thin case, as it charges. Unfortunately, it offers no cable management, so unless you have a short charging cable, your USB cable will dangle down—I'd love to see the Pi Mount's maker include a 6-inch charging cable, even if doing so increased the price of the Pi Mount. Still, for $9 including shipping, this is an inexpensive option.
Bluelounge's $20 MiniDock and Scosche's $25 ReviveLite II, which we've covered in the past, are a bit more elegant in that they don't have dangling cables. But they're also considerably more expensive—and they work only with older iPhones and iPods that use Apple's 30-pin dock-connector port.
Note: When you purchase something after clicking links in our articles, we may earn a small commission. Read our affiliate link policy for more details.
Dan is former Macworld senior editor. You can find him on the web at
danfrakes.com
.