This week's roundup of accessories for the iPhone and iPad contains more than a few new ideas for music lovers. Who says accessories have to be boring?

Behringer: It's not iPhone 5-ready, but the $180 iNuke Boom Junior docking speaker system works with just about every other iOS device, as well as dockable iPods. The system includes left and right drivers plus a bass speaker, and includes a wireless remote control. The whole system is a smaller—much smaller—version of the 10,000-watt iNuke Boom unveiled earlier this year at the Consumer Electronics Show. You can still play the music louder than your neighbors will enjoy; you just won't be able to destroy their house with sound waves while doing so.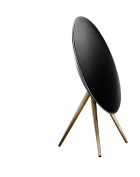 BeoPlay: Sure, the A9 Music System looks a little bit like a satellite dish repurposed as a home accessory. In reality, it's an AirPlay-enabled speaker system that can hang on your wall as an abstract objet d'art or stand independently on its own tripod. The system includes an eight-inch woofer, a pair of three-inch midrange drivers, and a pair of three-quarter-inch tweeters. The music should sound great, but the A9's design is one of the big draws: The tripod comes in three different colors of wood; and the A9 itself can be used with one of five different colors of speaker cover. BeoPlay hasn't offered pricing information; the A9 ships in late November.
EcoXGear: The $129 EcoXBT has one advantage over nearly every other Bluetooth speaker system out there. Sure, it can wirelessly play music from your iPhone, iPad, or computer. And, yes, it'll provide up to 10 hours of music and can even be used as a speakerphone. But the best part? It floats. Which means two things: A) It's not a witch. B) You can take it on your boat or to the pool and not worry about it getting ruined.
iBike Sports: This maker of bicycling accessories for iOS devices has two new products planned for the iPhone 5: the iBike Dash CC 5 cycling computer and iBike Phone Booth 5 bike case and mount. The latter ensures your new phone is in reach and safely stored on your handlebars when you're out riding hard; the former helps track your power and progress. The iBike Phone Booth 5 will ship in November, while the Dash CC 5 launches in December. iBike Sports has not yet offered pricing information for either product.
iHelicopters: OK, so there are remote-controlled planes, and remote-controlled cars, and remote-controlled helicopters. And you can remotely control all of these things with your iPhone or iPad. But remote-controlled bugs? Yes, that's a thing now, too. The $40 Bug and Beetle from iHelicopters give you the opportunity to do creepy and crawly in 21st-century fashion. Each toy offers 20 minutes of action from a full battery charge; then, like the real bugs you used to capture and put in jars, they will quickly die and just lie there. Unlike real bugs, however, you can recharge them for more fun.
The Lightning Dock: Over the past few weeks, we've told you about so many accessories that aren't quite ready for the iPhone 5 and its new Lightning connector, that it's something of a relief to tell you about the $25 Lightning Dock. It's a small stand, available in black, aluminum, or hardwood, that, yes, lets you connect to the latest iPhone without any special adaptors. That's the good news. The bad? The maker says to expect a wait of two to three weeks between your order and receiving the shipment.

Lockitron: Car owners have long relished the capability to remotely lock and unlock their vehicle doors using an iPhone app. The $149 Lockitron system provides homeowners the same capability with their front doors: Just fit the device over the indoor side of the door's deadbolt lock, and then use the forthcoming Lockitron app to trigger the lock. The system lets users share (and revoke) access to their home with friends and family, and to do so from anywhere in the world with good cellular or Wi-Fi service. The first batch of Lockitrons, already sold out, will ship in March; a second batch is due to ship in May.
Photojojo: The $30 Bobine is a nifty little piece of work. Yes, it's USB-to-dock-connector cable for your pre-iPhone 5 iPhone or iPod. But it's also a flexible, metal stand that can position your phone for hands-free use. The Bobine is 24 inches long when unraveled; Photojojo says an iPhone 5-compatible version is on its way soon.
USBFever: The $80 Flexible & Foldable Articulating Wall Mount for iPad gives users hands-free use of the tablet in just about any arrangement they wish. The device can be mounted to a wall; the telescoping arm can swing out to give you a good view of your tablet, or swing back to the wall for out-of-the-way storage. The wall mount ships ready to accommodate the iPad 2 and the new iPad; owners of first-generation iPads need to select an optional holder designed specifically for the older iPad's measurements.