Whereas the previous version of Mail (included with OS X Lion) looked radically different from its predecessors, the new Mail 6 that comes with Mountain Lion seems nearly identical. In this case, looks aren't even remotely deceiving. With the exception of a few small and pleasant additions, nothing's changed here.
Less of an upgrade, more of an upward nudge
Mail 6.2 retains its predecessor's three-column interface, shortcut menus, colorless icons, and amped-up search capabilities. You can still read messages in threaded conversations, with buttons that appear near the top of each missive in the thread for quick replying or forwarding. And it's just as auto-magically easy to import your webmail or set up Exchange accounts under the "new" Mail.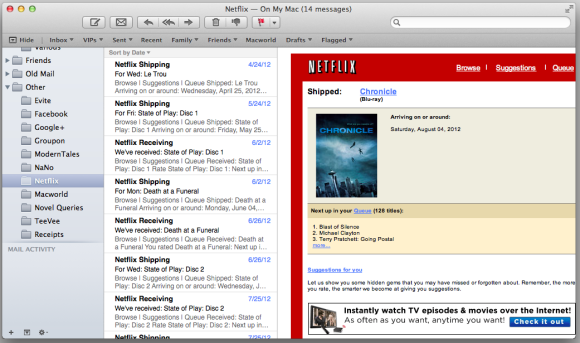 Hitting Command-F now activates Mail's inline find ability, allowing you to search within the text of individual messages or threaded conversations. Apple implemented this simple feature with typical thoughtfulness. A number at the right side of the search box counts how many instances of your chosen term it has found, and adjacent backward and forward arrows help you leapfrog to each clearly highlighted word in the text. Oddly, Mail doesn't list this under its new features in the Help guide, and it's buried one submenu deep in the program's Edit menu.
VIPs: The "I" stands for "invisible"
If you want messages from your favorite senders to rise above the clutter of a crowded inbox, you can now make them VIPs. This places them in a separate heading in the left-hand navigation pane, as with flagged messages or smart mailboxes. It's a great way to create custom mailboxes for the people you care about most.
You can also use VIP-hood as a criteria for further filtering your mail in the Rules section of Mail's Preferences. And thanks to iCloud, when you make a contact a VIP on your Mac, the new status seamlessly appears on your iPhone or iPad as well.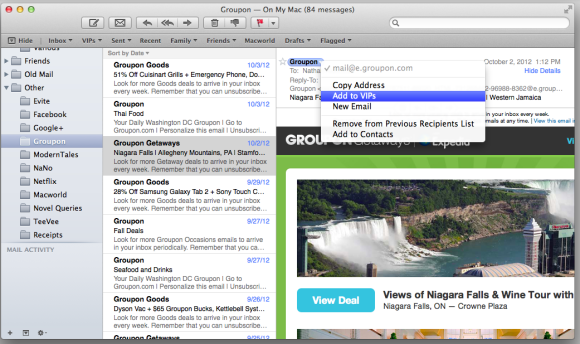 However, I wish this feature were a little more prominent in the interface. To make someone a VIP, you move your cursor to the header of a message they've sent you. A star appears to the left of their name; clicking it makes that person a VIP. (You can also click their name, and make them a VIP from the resulting pull-down menu.)
One-click interface elements are a lot more useful when they aren't invisible by default. Also, while stars appear by VIPs names in the overall list of messages, you can only add or remove their VIP status from an individual message.
Welcome! You've got mail!
The new Mail quietly integrates with Mountain Lion's notifications as well. A new pull-down menu, thoroughly camouflaged in the General area of Preferences, lets you trigger notifications for all messages, or only those in your Inbox, from VIPs or your overall Contacts, or in any of your smart mailboxes. Should you wish to customize this even more, Notifications have also been added as a Rules criteria.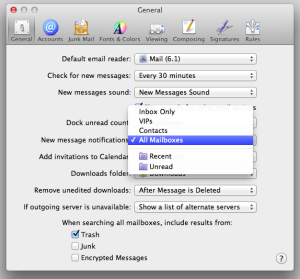 Another new feature is actually more of a Safari addition. When you want to email someone a page you're browsing in Safari, Mail lets you pass it along as a full HTML page, a streamlined Reader version (in some cases), a PDF, or just the text link.
Finally, Time Machine performance seems slightly improved in the latest Mail. My first attempt to look up archived messages on a Time Capsule via 802.11n wireless failed so badly, it crashed Mail. But when I loaded Time Machine a second time through Mail, then walked away for a few minutes, I came back to a smooth, responsive listing of my past two or three months' worth of inboxes. Strangely, although Time Machine listed numerous previous archives, I couldn't access them. Perhaps the upgrade to Mountain Lion changed Mail's files to make the older backups unreadable.
Bottom line
Mail remains as stable and sturdy an email client as ever, striking a pleasant balance between super-simple webmail front ends and professional-grade behemoths like Outlook. The new features alone in Mail 6 hardly justify an upgrade, but as part of the whole Mountain Lion package, they fit in well.