At a Glance
Expert's Rating
Pros
Far faster than previous model
Bright screen
Solid camera performance
Siri support
Cons
No remote on bundled headphones
Our Verdict
There's a new iPod touch on the block and, in many of the ways that most matter, it's a doozy. While it's tempting to compare it to a phone-less iPhone 5—particularly given its similar height, weight, thickness, and Lightning connector—the iPod touch is a device intended for a different audience. An audience that skews younger than the iPhone's and one that desires a cool media and game player that can stand on its own rather than feel like an iPhone's hobbled sibling. And for this reason, a comparison to the fourth-generation (4G) iPod touch is more apt.
That said, there's really no comparison. The latest touch—in 32GB (4.5 of 5 rating) and 64GB (4.5 of 5 rating) flavors—is umpteen times better.
Playing outside
To help define exactly what I mean by umpteen, let's begin with the outside. Like the iPhone 5, the latest iPod touch is taller than the previous model—measuring 4.86 inches versus the 4G iPod touch's 4.4 inches. It's also quite thin at just 0.24 inches thick. And, like the iPhone 5, it's surprisingly light when you first pick it up. (Though taller than the previous model, it's almost half an ounce lighter.) A couple of family members picked mine up unbidden and their first remarks were "Wow, it's taller… and lighter!" So yes, you can feel the difference.
The last iPod touch had severely beveled edges. With those edges, I found it clumsy to feel around for the On/Off and Volume buttons. They invariably seemed a little too far back on the case, which caused me to lift up the left side of the iPod to adjust volume. The edges of the new touch still curve around to the back, but not at such a steep angle. In this case, the buttons feel like they're perfectly placed. I hit them every time without having to shift the iPod around or look at it. Similarly, with the less-angled bottom edge, the headphone port feels easier to access. With the 4G iPod touch, I felt like I should be inserting the headphone jack diagonally rather than straight in.
And then there's the Lightning connector (a Lightning-to-USB cable is included in the box). When fumbling with the old-style Dock connector in an ill-lit room on my old iPod touch, I'd try to jack it in the wrong way round at least half the time. Having the new Lightning connector, which goes in regardless of which way the plug's turned, is a welcome change.
The new iPod touch looks different in another way. Available in gray, silver, pink, yellow, blue, and Product Red, this is the first colorful iPod touch line. Each features a white face save the gray model, which offers the black front that we're accustomed to on previous models. Colors cover the back and wrap around to the sides. The colors lean toward pastel rather than bold, but they give these iPods a fresh, more playful countenance than their somewhat antiseptic looking predecessors.
Height matters
The iPod's height makes a difference in a variety of ways. That extra screen space, like with the iPhone 5, allows an additional row of icons on the Home screen, which may mean paging through fewer screens to find your apps.
Apps that have been built to take advantage of the taller screen are just as nice. With the Photos app, for example, you can see six rows of thumbnails instead of four and a half. Pull up the Settings screen and you will find 10 entries on a single screen rather than eight. And then there are the apps written for the larger display that provide more elbow room.
Fire up the Videos app and watch a widescreen movie on both this and the previous iPod touch and you will discover that when viewing a movie in the non-widescreen mode, you actually see more of the image on the new touch—less material is taken away from either side when the top and bottom of the video is expanded to fill the iPod's screen. Switch back to the widescreen mode and both models show the entire width of the movie, but the new iPod touch's black bars above and below the video are narrower as the display was designed with widescreen video in mind.

I also found picture taking more comfortable on this taller iPod when snapping shots in landscape orientation. With the older iPod, my hands felt too close together and, invariably, a finger would stray in front of the lens when holding the iPod with the Volume buttons facing up. I didn't have that problem with the new iPod. My hands spread out a bit more and either because of the weight, the iPod's dimensions, or a combination of the two, it felt easier to hold the camera and snap the shutter with the Volume Up button.
Some iPhone 5 users may dispute the Apple commercial that claims the average thumb can perfectly traverse the iPhone's display from top to bottom. I fall into the group that finds comfortably accessing the entire display requires you to edge the device out on your fingers a bit more than previously and angle the device in. It's not uncomfortable to do this, but one-hand operation does change because of the taller display.
Performance improvements
This fifth-generation iPod touch uses the dual-core A5 processor found in last year's iPhone. The 4G iPod touch has the older and slower A4 processor. While you will feel no discernible difference between the new iPod's performance and an iPhone 4S's, there's a dramatic difference between this iPod and the last one in regard to snappiness. For instance, starting each iPod from a complete shutdown, the new iPod did so in 21.1 seconds. The 4G model took 32.5 seconds to perform the same task. Apps open more quickly on the new iPod than they do with the older model—GarageBand, for example, loaded noticeably faster on the 5G iPod touch. Graphics performance in games is also improved. And this isn't simply a matter of stop watches and charts. This is a difference you can feel. Where the old iPod would hiccup, the new one marches on.
The new iPod's display is also noticeably brighter at its highest setting. Place it side by side with the 4G iPod touch, crank up the brightness on each, and the 4G iPod looks bluer and gloomier in comparison. Unlike with the previous iPod touch, the new one has no auto-brightness switch. I don't find this to be a loss, as I found the old iPod too dim when auto-brightness was engaged.
What comes around
The 5G iPod touch benefits from some features inherited from the iPhones 4S and 5. Delve into the Camera app, for example, and you'll spy the HDR and Panorama features found on the iPhone. Siri is also on board this latest iPod, and it works just as well (and I'll let you be the judge of how well that is) as it does on the iPhone—provided, of course, that you're connected to a Wi-Fi network. (The iPod touch lacks cellular connectivity, making Siri useless when you're out and about.) The latest iPod touch also has an LED flash next to the camera on the back.
The 5G iPod touch ships with a variation of Apple's new EarPods headphones. What makes them different is the lack of an in-line three-button remote control. And that's too bad. It's not that the EarPods that contain this remote sound any better. The touch is one of those iPods that cries out for a remote, as many people keep their iPod in their pocket or purse, with the headphones trailing out. And with Siri now part of the package, we're more likely than ever to talk to our iPod. The last iPod touch didn't merit anything other than the bare-bones headphones and, in Apple's eyes, this one apparently doesn't either. I disagree, and think it's a bad move on Apple's part.
We reviewed the EarPods separately and I have little to add other than that they fit my ears far better than the original white Apple earbuds. And like our reviewer, I found their sound okay, but not great.
About those cameras
The 5G iPod touch packs two better cameras than its predecessor, and it shows. The new iPod clearly outshoots the old one. The fourth-generation iPod touch held a 0.7 megapixel camera capable of shooting 1280 by 720 (720p) HD video and 960 by 720 stills. The front-facing camera offered a bare 0.3 megapixels at a resolution of 640 by 480. The new iPod touch houses a 5-megapixel rear-facing camera that shoots 1080p HD video and still images at 2592 by 1936. The front facing camera shoots stills at 1280 by 960 and video at 1280 by 720.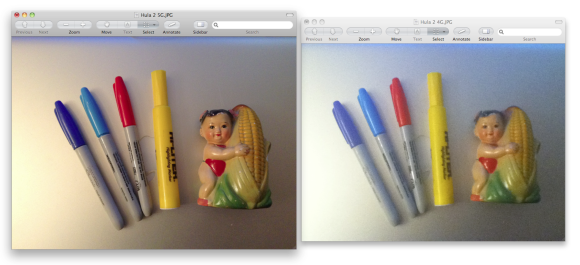 But the improvements are far greater than resolution. The new iPod's camera reveals far more details, is better in low light, and its color accuracy is a big step forward. The old iPod's camera tended to drench images with a blue hue and produces very grainy results in low light. Indoor skin tones are warmer with the new iPod, whereas with the 4G iPod they tend toward pink.
The flash isn't a great help in very low light. It can produce results good enough to embarrass your friends on Facebook, but otherwise tends (like the iPhone) to blow out subjects in a dark setting. It's better to reserve this feature for fill-flash when you want to brighten up backlit subjects who are standing in a reasonably bright environment.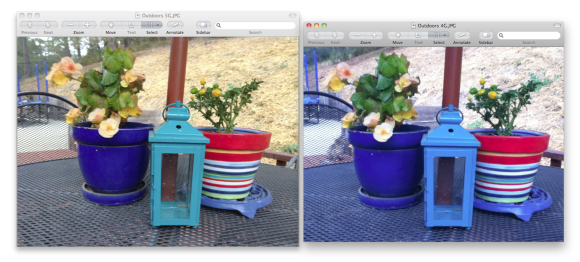 New and missing
The one wholly new feature on the iPod touch is the wrist strap and the accompanying spring-loaded post for attaching it. Flip the iPod over and you will find, in the lower left corner, a silver disk a little smaller than the head of a thumbtack. Push on it and it pops out slightly. In this position you can slip on the included color-coordinated wrist strap that allows you to dangle the device from your wrist, purse strap, or belt loop. The strap seems plenty sturdy, and I can see it helping to prevent iPods from taking a deadly tumble. It's something I'm unlikely to use, but Apple makes it easy to ignore. Just leave the post pushed in and treat it as a decoration.
Those seeking the legendary "iPhone without a phone" are as close as they've ever been to an iPod touch that matches the capabilities of Apple's mobile phone, but there are important differences outside the device's ability to make and receive phone calls. It holds no GPS circuitry so Maps' turn-by-turn powers are lost on it. And because it can't communicate over a cellular network, FaceTime conversations are, of course, limited to Wi-Fi.
I mentioned that Siri is dead unless you're connected to a Wi-Fi network. This seemingly introduces a problem that didn't exist on the previous iPod touch—spoken music navigation. On the 4G iPod touch, you could press and hold the Home button to initiate voice control. With that control you could tell the iPod what music to play, which was very helpful while driving. If you have Siri switched on, voice control doesn't work unless you're connected to a Wi-Fi network. So, if you're on the road and want to tell your iPod to play a song, you can't. However, there's a way around this. Go to Settings > General > Siri, and switch Siri off. Now when you press and hold the Home button, the old Voice Control feature appears, allowing you to play music by command even when not connected to Wi-Fi.
One other thing that's missing is a $199 price tag on one of these iPod touches. Apple continues to sell the 4G iPod touch in two capacities—16GB for $199 and 32GB for $249. The 5G iPod touch is available in 32GB and 64GB capacities for $299 and $399, respectively. With its new look and continued appeal to younger users (and the parents of these users who've relied on avoiding a two-year iPhone commitment for their kid by slipping an iPod touch under the holiday shrubbery instead), that $100 difference may be significant. $200 isn't cheap, but $300 may be something of a stretch. And frankly, once a kid lays hands on this new touch, they're unlikely to leap for joy when they unwrap the older model.
Bottom line
Price aside, whether you're in it for the apps, games, or media, this is an iPod you'll treasure. With its improved cameras, zippy performance, bright and roomy display, support for Siri, and more colorful and statuesque form, the fifth-generation iPod touch is a winner.
Updated 12:00 PM 10/12/12 to correct information about Voice Control on the iPod touch.