As you'd expect, accessories for the iPhone 5 are trickling out, and this week there are couple of new products that will help your new iPhone's camera see farther and better. But there's also plenty of other gear for making art or listening to music on your iOS device.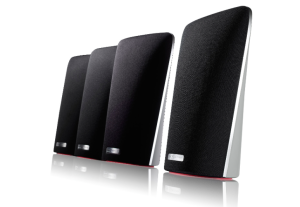 AQ Audio: This UK-based company has brought its $179 SmartSpeakers to the United States. The speakers are AirPlay-enabled,letting users wirelessly stream music from their iPad or iPhone; they're also rechargeable and offer up to 10 hours of play before needing to be charged again. You can get more audio by purchasing a "twin pack" of speakers for $349, or a "four pack" for $675.
Brando: Here's an accessory that should be a contender. The $17 iPhone 5 Long Range Mobile Phone Telescope lets you magnify far-off objects up to six times the size they'd otherwise appear on your new phone's camera, allowing for better photos and video on your vacation and/or covert surveillance activities. Not that we'd know anything about that.
Eton: The $150 Eton Rukus is a solar-powered speaker system that streams music from your iOS device via Bluetooth. It charges fully in under six hours and offers up to eight hours of playback time. The Rukus comes in three colors and is lightweight, letting you take your music on the go.
Griffin Technology: This company has long collaborated with Crayola to provide child-oriented accessories for the iPhone and iPad. Now it's unveiled the DigiTools line of accessories, each $20. The 3-D Pack lets you create three-dimensional artwork that you can view with the enclosed glasses; an Airbrush Kit lets you create stenciled art; and the Effects Pack lets you play with color and glitter efffects. Each works best in combination with Griffin Technology apps; all three can be purchased together in a $40 Deluxe Pack.
The Joy Factory: One remarkable aspect of the iPad is its popularity with people with special needs. The $180 Charis Wheelchair Mount for the iPad 2 and new iPad fits squarely into that tradition: It attaches to the arm of a wheelchair, letting the user position the tablet in view or fold it away so it's unobtrusive. The Joy Factory says the new mount can reduce fatigue and help the posture of wheelchair-using iPad owners. Buyers can also register to give their input on future Charis Mount designs.
Macgadgets: Not everybody will be in need of the $50 Apple Store Acrylic Pedestal Base. It's built for users who—like the Apple Store—want to display the iPad in a business setting. The base is six inches in diameter and is pitched for use at retail outlets, trade shows, conferences, and similar events.
Nocs: The $450 NS2 Air Monitors will wirelessly stream music from your iOS device using Apple's AirPlay technology. The speaker system uses Kevlar-reinforced woofers, and it also includes a headphone jack for those times when you want to listen privately. The speakers will be available for order and shipping in November.
USBFever: This prolific accessory provider has unveiled a line of new camera lenses for the iPhone 5, including the $26 180-Degree Fisheye Lens with Back Cover, the $14 Macro Lens with Back Cover, the $22 Wide Angle Lens with Back Cover, and the $22 2X Telephoto Lens with Back Cover. Although the cover comes with each lens, it's easy enough to unscrew the lens and install a different option for premium iPhone photography.
V-Moda:The $310 Crossfade M-100 over-the-ear headphone is touted as a "crowdsourced headphone"—more than 200 artists, DJs, musicians, and "online audiophiles" contributed feedback to its creation. The result? A product that's supposedly indestructable: The cables are made from the same material as bullet-proof jackets, and tests prove the headphones can survive 70 or more drops onto concrete from a height of six feet. And the sound quality? That's also supposed to be pretty good.
Updated 10/18/2012, 11:30am, to add the price for the Nocs NS2.