Reader Steven Lange loves his new MacBook Air except for one little thing. He writes:
I just purchased a MacBook Air and really like it, but I still need to occasionally use DVDs for installing software and watching movies. What options do I have?
The easiest option is to simply purchase an external USB DVD drive. Apple makes such a thing in the form of its $79 USB SuperDrive. Just jack it into your MacBook's USB port and shove your discs into it as needed. With it you can play DVD movies, play and rip CDs with iTunes, and install software if it's compatible with your Mac.
Of course Apple's isn't the only solution. Go to Amazon and search for External USB DVD Drive and you'll find several external drives that are compatible with your Mac (and most costing quite a bit less than Apple's drive).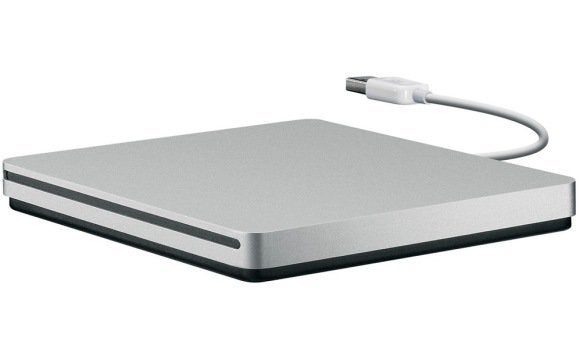 If you have access to another Mac that does have a media drive, your options expand a bit. In such a situation you can use the power of DVD or CD Sharing if you want to install software (other than the Mac OS) or copy files from a disc. It works like this:
To begin, your two Macs must be on the same local network. Now, on the Mac that has the media drive (ie. not your MacBook Air), launch System Preferences, select Sharing, and in the Sharing window enable the DVD or CD Sharing option. By default the Ask Me Before Allowing Others To Use My DVD Drive option is enabled. Unless you're concerned about others on the network accessing discs in your Mac's media drive, leave this option on.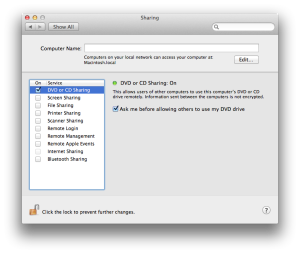 On your MacBook Air, open a Finder window and look for the Remote Disc entry under the Devices heading. Select it and you'll see any Macs on your local network that have a media drive. Into the Mac with the media drive, insert a data CD or DVD.
On your MacBook Air, within the Remote Disc window, double-click on the name of the Mac that has the media drive. You'll see an icon for the disc. Double-click on that icon and you should be able to see the contents of the disc. At this point you can work with the disc just as if it was inserted into the Mac you're now using—you can install software or copy files from the disc to your MacBook Air, for example. Note that because it's transferring data over a network rather than directly from the disc to your drive, it will likely take longer to move that data.
While this sharing option means that you needn't purchase an additional hunk of hardware, it's also pretty limited. You can't play DVD movies or audio CDs, copy-protected discs (game discs, for example) won't work, and—as I hinted earlier—you can't install the Mac OS from a Remote Disc. It's really there so that if you absolutely need to install software from a disc or copy data from one of these silvery platters, you can.
Any other options? Sure. You can purchase movies you don't already own from the iTunes Store or stream movies from Netflix if you have a streaming subscription. And if you have another Mac with a media drive, movies and TV shows you own on DVD can be ripped with HandBrake.
If you have that other Mac with a media drive you can create a disk image and copy it to your drive-less Mac. To do that insert the disc in the other Mac's media drive and launch Disk Utility (found in /Applications/Utilities). In Disk Utility's Sources list select the disc. Choose File -> New -> Disk Image from nameofdisc. In the sheet that appears choose DVD/CD Master from the Image Format pop-up menu, None from the Encryption pop-up menu, and click Save.
Disk Utility will take some time creating the disk image. Once the image has been created, copy it to the MacBook Air over the network, double-click on it to mount it, and run it as if it was the original disc.