Apple Mail, the email client that comes with OS X, handily serves the needs of millions of Mac users. Use it for years, though, and you may find that Mail's search capabilities can't easily find that six-year-old message that you need right now. And nearly every mail client suffers from the creeping problem of degraded performance, a result of the accumulation of gigabytes of messages and attachments.
Enter MailSteward Pro, a product that helps address both plights. MailSteward Pro's primary function is to read your Apple Mail file structure and copy the messages and attachments to its own database. Using the product's powerful search features, finding just the right message among tens of thousands is readily achieved. And, with the emails moved to a searchable archive, they can be deleted from Mail, thus shrinking its database and recovering some speed.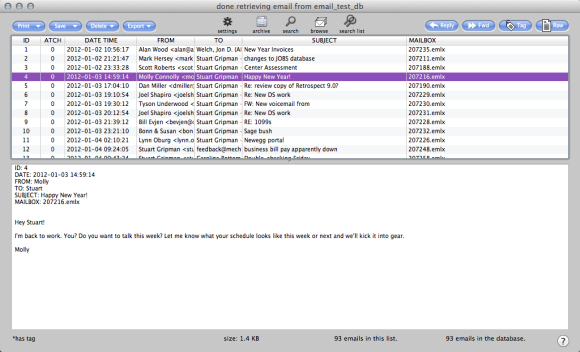 MailSteward Pro delivers, with an investment of time and effort. One of MailSteward Pro's greatest flexibilities can be a source of frustration for the uninitiated—users must first set up a MySQL database in which to store the messages copied from Apple Mail. This certainly doesn't require a computer science degree, but expect to spend a few hours downloading, installing, and configuring the free MySQL server product. MailSteward Pro's documentation offers excellent guidance here. Once set up, the vast possibilities of having your emails in a relational database are at your disposal.
If the idea of configuring and administering a SQL server turns your hair white, consider the simpler MailSteward (sans Pro). This $50 version builds and manages its own SQL database. However, what you gain in simplicity you lose in flexibility. MailSteward Pro's database can be accessed by multiple users on a network and need not reside on the same computer as the MailSetward Pro application. Back-end data storage notwithstanding, the two versions are identical.
Telling MailSteward Pro what and when to import is handled in the tabs of a Settings dialog box. The Accounts tab displays the email accounts configured in Apple Mail, and allows you to select those you wish to archive into MailSteward Pro. A Mailbox view in this tab displays your entire mailbox hierarchy, permitting more focused importing. A checkbox at the bottom of this tab instructs MailSteward Pro to delete the selected messages from Mail after they've been copied—use that checkbox with extreme caution, because MailSteward Pro can't move messages back into Apple Mail.
The Scheduling tab is used to automate ingest of new mail messages. MailStewardPro can grab new messages at any interval between hourly and annually. While the MailSteward Pro application need not be kept open for the schedules to execute, the MySQL server and database must be accessible for the procedure to succeed.
Tags (one to two word text descriptions) can be applied to email messages automatically at the time MailSteward Pro archives them. A Tag Rules tab in the Settings dialog box provides a structure for defining which tags to apply. For example, any message that comes from your cousin's email address can automatically be tagged with the "Family" category and the keyword "cousin." Set up a Tag Rule for each member of your family that assigns appropriate keywords, and it becomes dead simple to search for messages from all your cousins at once.
My testing saw MailSteward Pro copying messages at a rate of about eight per second, though I wasn't including attachments or applying Tag Rules. Regardless of options and configurations, it's probably wise to let that first big backup run overnight.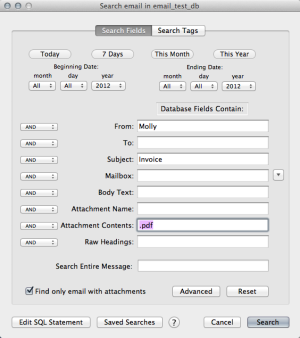 Once MailSteward Pro has some data in its system, browsing and searching becomes possible. The message viewer window is functional, but not exactly beguiling. A toolbar across the top offers buttons and menus for finding and manipulating messages. Just below the toolbar is a list of the emails that meet your search criteria. Select any message and its contents and attachments appear in stacked window panes just below the list. It's all quite clean and understandable, but has the feel of being designed by a very capable engineer, not a user interface expert.
Each of the Print, Save, Delete, and Export buttons in the toolbar offer thoughtful array of choices. Most of the actions can be applied to the selected message, the messages that appear in the current list, or all the messages in the whole database. Combined with MailSteward Pro's search prowess, you could, for example, find and print every invoice received from a particular vendor in the third quarter of 2009. The toolbar also sports Reply and Forward buttons that create new outgoing messages in Apple Mail—a handy shortcut that saves some copy/paste bouncing between applications.
Bottom line
Like the car crusher at a junkyard, MailSteward Pro is an efficient, purpose-built dynamo. You're not going to buy it because it's pretty, but if you're awash in email messages, it'll capably tame that beast. Individual users can opt for the non-Pro version that offers the same features in a closed database for half the cost.